Interview with Howard Chen
Interview with Howard Chen
What has made Selene Yachts so famous in the trawler and passagemaking community?
It's very simple: our full displacement hull that ensures comfortable and elegant long-range cruising and our price and quality! Since 1998, Jet Tern Marine has designed and built over 400 yachts in 20 different styles, mostly designed by myself, the most popular being the Selene 54, 58 and 60. They are distinguished by safety, stability and spacious luxury. Their Deep Hull concept makes for an engine room with enough headroom for easy maintenance by the owner, which is a critical point for our clients, and a lower center of gravity for better stability and performance. And really, their impressive price/quality ratio makes Selene yachts unbeatable. Another important fact is that, contrary to many other trawlers and yacht builders, we own our shipyard 100% and we don't sub-contract to a third-party so-called "partner"… We have the freedom to make our own tooling and molds when we design a new yacht…
Who are Selene Yachts owners?
Most Selene clients from the Western world are from the "Baby Boomer" generation. They are between 50 and 80 years old, and living the dream keeps them young! Whether they do the Great Loop or cross oceans, they are now taking the time to relax and enjoy life after a lifetime of achievement and hard work! In China, it's different, the main buyers come from the generation of newly rich entrepreneurs and they often prefer faster boats because they are still active and have less time to spend on the water; this is why we have designed for them our specific lines Artemis and Long Reef, which are built like any other Selene Yacht but take their owners safely and in style in the fast lane…
After twenty years, what is the place of new technology in the building of a Selene yacht?
We always work together with experienced designers and engineers, ensuring that we are ahead of the curve on technology. We are particularly good at resin vacuum infusion and carbon fiber reinforcement. As a naval architect with a master's degree in architecture, I have always recognized the importance of constant Research & Development. We very often cooperate with designers and naval architects from the Netherlands, the UK, the US, New Zealand, Canada and Italy… Our in-house design team is very connected to the international boat building community! We pay a great deal of attention and devote resources to R&D so as to develop more advanced and innovative yachts, at the same time, we keep a very tight control on costs and always work to increase efficiency.
Do you source your yachts components in China or abroad?
Jet Tern Marine is a Taiwanese company with its production base in China but many of our key components and materials, such as engines, generators, foam core, fiberglass and navigation equipment, are imported from overseas or from Taiwan. The supply chain is essential to production and quality, so any delays have an adverse effect on efficiency. This is why our yard in Zhuhai is in an easily reachable location, making for very convenient supply and transportation of goods.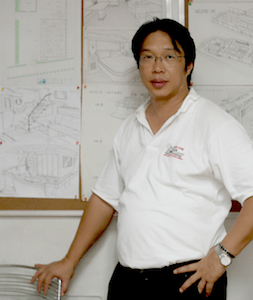 Do you have a specific Selene Yachts marketing strategy?
We focus on what I call the four Ps, for Product, Price, Promotion & Place. This is combined with expert workmanship and inspired design to build our customers' dream boats. Costs are carefully controlled without compromising on quality or design.
Do you think the Asian yacht market is ready to boom?
Although the Chinese yachting industry has only started taking shape over the last four years, "yes", the yacht market is definitely starting to boom here! Jet Tern Marine has been in China for two decades already with its own shipyard. While China is still lacking in yachting infrastructure, this is swiftly being remedied, with many marinas under construction in various provinces. The government supports and encourages the yachting sector, which has been dubbed a « Rising Sun Industry ». However, there is still much room for improvement in terms of yacht management standards and regulations. Hong Kong and Singapore have a Chinese culture and a much higher number of yachts per person, so, yes definitely, China is likely to become a huge market soon. More and more Chinese people enjoy the sea now, especially in the city of Sanya on Hainan, a tropical island in southern China, which is increasingly positioning itself as an international tourist destination.
What is going to be new in 2018?
Many things, with a few dynamic additions to our international team ! New models with our « Blue Voyager » yacht, still a project that has started to take shape with our new international consultants, and I cannot tell you more for now ! But also a beautiful 39' gentleman's boat designed especially for the Pacific Northwest waters, and a fast day or week-end boat tailored for the Mediterranean Sea and the Australian coastline. On the multimedia side, we have completely revamped our Selene Yachts website and created a set of e-documents and technical library for our dealers and clients, and last but not the least, our quarterly magazine « Blue Voyager » will be published early next year. It will be a wealth of information not only about our line of Selene Yachts but on the boating lifestyle with technical articles, travel logbooks and many more exciting stories.