1936, first ocean crossing on a power yacht
Why do we, the Selene people, believe in passage maker yachts so much? Because power yachts have made history for 80 years now. Our Selene yachts cruising throughout the world proudly perpetuate this tradition…
Captain Marin Marie – his actual name was Paul Emmanuel Durand Couppel de Saint-Front (1901-1987) – was a famous French painter, writer, naval architect, and sailor. In 1936, he single-handedly brought the Arielle, his wooden power yacht of 42'7" with a 75hp diesel engine from New York to Le Havre, bringing his boat under power into port without a mishap. Marin Marie has the indisputable record of being the first captain crossing the Atlantic Ocean under power on a leisure yacht! In 1936 he received the Blue Water Medal Award from the Cruising Club of America. And in 1945, he wrote his best seller, "Wind Aloft, Wind Alow".

The first captain crossing the Atlantic Ocean under power
Arielle was built by Chantiers Navals Jouet & Cie. in France, from designs by Marin Marie. The hull was round bottom. Length overall 40 feet, beam 10 feet and tonnage 13. She had a two-ton keel. The sheer was continuous but forward, the nearly plumb stem gained an extra-foot of freeboard by a bulwark. Aft, the deck was sunk about 18 inches to form a small cockpit with big scuppers. In the cockpit there was a hatch for access to the stowage compartment below and the steering quadrant. In our days we would call this space a lazarette. A V-shaped raked coaming was set on deck forward to break any solid water that may find its way over the bow. Amidships there was an enclosed deckhouse, our modern pilot house. Further aft, there was a trunk cabin with the living quarters, very close to the layout of our pretty Selene Archer!
On a single engine for 22 days
Arielle was brought over from France aboard the liner Champlain several weeks before her departure from New York. Using an ingenious electric autopilot combined with a wind-vane system designed by himself and French engineer Casel, Marin Marie had sailed his yacht back from New York to Le Havre practically without touching the helm! The engine of Arielle was a bullet-proof French-made 4-cylinder Baudoin which worked day and night during twenty days. The Arielle, could bunker 5 tons of fuel and used only two third of it during the passage across the Atlantic Ocean via Nova Scotia. The Arielle cruise speed was 10 knots.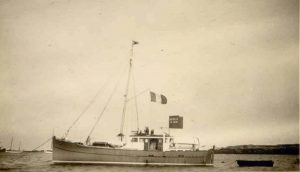 Marin-Marie came from a family interested in things nautical. He also obtained a doctorate in law, and took classes at the École des Beaux-Arts in Paris. He did his share of voyaging while making a career as a renown painter and serving as an advisor for what was known as the French Line. A consultant for the Saint Nazaire Shipyard, he designed the stacks of the famous Normandie liner, adding a third one for aesthetic reasons only, which was eventually used as a kennel for the passenger's dogs. In 1934, Marin Marie was appointed Peintre Official de la Marine, a rare distinction created in 1830.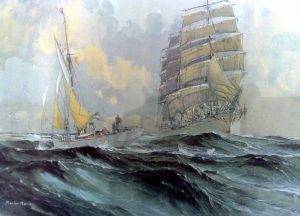 In 1946, one decade later, after the French captain's accomplishment, Robert Beebe wrote in Rudder, a leading boating magazine of the time, about the concept of passagemaking under power. It was then that, following Marin Marie's foot steps, he coined the word "passagemaker" as the term for ocean-crossing vessels. Beebe's Passagemaker was built in Singapore and launched in 1963.
A few years ago only, M.Y. Furthur, a Selene 47 skippered by Cap. Brian Calvert was the first Selene yacht which has crossed the Pacific Ocean!
Marin Marie, Robert Beebe, both of them still inspire us at Selene Yachts, and they inspire our clients and captains just the same…