Selene 49, Adventure in style
Selene 49, hull # 42 is on her way to her next port of call where the galley appliances and the navigation electronics will be commissioned. We all have mixed feelings when we see a Selene rolled to the port where she will be loaded on a ship…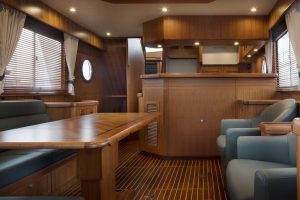 We always build solid and beautiful boats with performance, efficiency and economy in mind. But, beyond that, every Selene Yacht is a unique and personalized masterpiece… Every Selene Yacht is different. This is why we remember them so well… We always listen carefully to our client's lifestyle and taste. We know they will not be disappointed with our long range vessels; displacement yachts seaworthiness with a  low center of gravity which brings exceptional comfort during an ocean passage, or even coastal cruising, is key to a safe passage making. Our latest Selene 49 Ocean yacht is one more time the result of our designers, engineers and shipwrights talent and skills. In essence, we have turned a traditional and proven design into a comfortable and practical modern vessel for today's navigators.

Selene Yacht unique interior finish
The main saloon of our latest 49 Ocean Yacht is spacious with large windows giving superb visibility and plenty of natural light. A classy finish combined with first-class amenities delivers this unique atmosphere that all Selene owners like. Our beautiful cabins also offer that kind of solitude sometimes needed during a long passage or when living aboard. Our yachts are designed to be livable for a cruising couple, and family-friendly…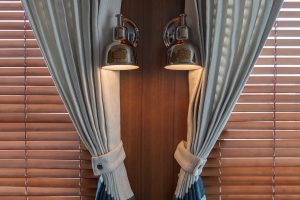 We never compromise with our creative layouts, interiors beauty and deck space. A well appointed galley, a washer and a dryer will make the owner and the passengers feel at home. Down to the smallest detail, a Selene is a piece of art with teak paneling, hand-stitched upholstery, elegant draperies, granite counter-tops, seamless joinery and traditional light fixtures.
From the China Sea or the Strait of Malacca to the Pacific Northwest peaceful inlets, Selene Yacht always brings the adventure to a new level…