"Of boats and men…"
38, 42, 48, 60, 72, 92, 108… It looks like a list of winning lottery numbers… but it's even more exciting than that! It's the list of the hulls and moulds currently at the shipyard, patiently waiting to be assembled for their new owners!

Selene shipyard at work
Lamination, joinery, varnish, electricity, plumbing, engineering, welding… all our departments are working at full steam! As of next month, we aim to have one new yacht completed and launched per month! The first of them being a beautiful 42 Voyager Sedan Limited Edition, designed by Howard Chen himself in honor of the 20th anniversary of the Selene Yachts shipyard. The happy owner, an experienced captain, has already visited us at the factory three times now, and is carefully following the building of his yacht. Selene owners are always welcome to come and see the progress of their yacht… It's always a memorable experience for all involved, and we take great pleasure in the presence of our clients to share in our passion for boat building. Usually, after spending a day or two at the factory, our clients realize that our yachts are not mass-produced, but rather, semi-customized vessels tailored to the unique needs of their owners…

Full steam operations
As planned, our two production units have merged into a larger, more efficient unit at the Zhuhai shipyard near Hong Kong. All the moulds from the historic Selene shipyard in Dongguan are now stored in our warehouses in Zhuhai, waiting for future orders. It was an impressive motorcade on the highway when we moved them! It was a challenge, but with the thorough organization of our factory workers, it all went smoothly.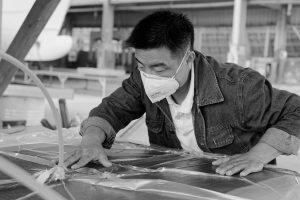 Today, a European journalist visited the shipyard, and we have been fortunate enough to receive a sneak peak of his photographs at the shipyard. His story, once published, will be called "Of Boats and Men…"