The new Selene 72 Ocean Explorer is under construction
When a boat builder like Selene with a high reputation for quality and innovation creates a new yacht like the Selene 72 Ocean Explorer, it must always ensure that it will incorporate all of the positive features of the other successful models, but that it will also bring something different…
An international team
For several years Howard Chen has worked with Guido de Groot, the famous Dutch designer to create new yachts, which have all the qualities of a Selene classic ocean yacht but with softer lines and a different interior decoration that attract demanding owners. James Fwu of JFNA, a renown naval architect of Taiwan joined this international team for the hull lines, hydrostatic data, structural design, stability calculations, dynamics performance and final "EU Type Examination Certificate" with RINA.

Hull one currently under construction
Every Selene Yacht is a unique and personalized masterpiece! We always build a yacht that feels like yours, with style, performance, efficiency and economy. And the new Selene 72 Ocean Explorer is not different… The first one is under construction at the shipyard. It will be at home everywhere in the world on any sea, and it is a real passage maker! Filling the gap in our Ocean Explorer line between the 60' and the 78', the yacht is another contemporary version of our famous long range yachts, capitalizing on the Selene reputation for quality, experience, and innovation in the displacement yacht sector. It's a true and reliable explorer vessel with a stunning interior design, amazing outdoor entertainment space and, of course, the legendary bullet-proof Selene Yachts construction. Displacement yachts are seaworthy with a low center of gravity which grants exceptional comfort during an ocean passage or coastal cruising, and Selene people are specializing in displacement vessels for twenty years, with 400 yachts roaming the world's oceans…
Perfection down to the details
This new Selene 72 Ocean Explorer design is going to appeal to existing Selene enthusiasts and takes the simple and proven concept of a fuel efficient and seaworthy long-range yacht vessel to a new level of luxury that is intended to compete directly with the finest European shipyards with all of the advantages and flexibility of FRP. Selene shipyard directly sources the best products and has some of the best shipwrights in the industry. Selene people have years of experience that have made them experts in the design and building of beautiful and seaworthy yachts, down to every detail.
With a LOA of 75'-9", a displacement of 158,688 Lbs ( 72 Tons ) and equipped with two Cummins QSL9 405 BHP engines (a single engine version is also available), the Selene 72 Ocean Explorer carries more than 3,000 USG ( 11 355 Liters ) of fuel for long range voyages at a cruising speed of 9 knots, with a top speed of 11.5 knots.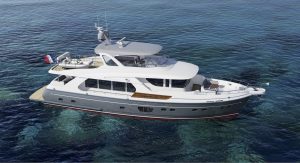 What is catching eyes is the elegant combination of modern styling and the line of a reassuring ocean going vessel. It shows a number of the Selene family traits with her powerful raised pilothouse, Portuguese bridge, wide upper deck, and  walk-around side-decks which provide safety and convenience for passengers of all ages ( wide-body or semi-wide-body is optional.) But a new approach is also visible in the addition of the large side windows in the hull and the curvy and sleek lines of the flying bridge.

Luxury and elegance
This exterior elegance extends to the beautiful light-filled interior. The climate-controlled salon offers high-end comfort with a surrounding view of nature while cruising or at anchor. The lower deck of the Selene 72 Ocean Explorer has three guest cabins, a luxurious full-beam owner's cabin and a crew's quarters with two cabins and private head which is connected to a very large swimming platform, which can be equipped with a hydraulic Tenderlift. Beautiful joinery, fit and finish combined with first-class equipment and amenities deliver unique prestige to the owner. The spacious interior promotes entertaining with comfort-minded cabins where the passengers can enjoy the voyage.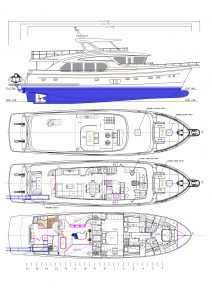 Style, structural engineering, fuel economy and performance have all been blended to create this perfect Selene 72 Ocean Explorer designed for longer distances between ports and more varied adventures in any conditions. We never compromise, and we alway build our Selene yachts how they're meant to be built. A Selene is designed to explore the world…