Life at the Selene Shipyard
With eleven yachts under construction, the Selene shipyard is an impressive bee-hive filled with busy technicians! Three Sedan models of the Voyager line are 70% complete in Hall A, and a beautifully appointed 60 Ocean Explorer designed by Howard Chen and Guido de Groot will soon reach 80% completion, along with some very exciting equipment like the jacuzzi and a heated floor throughout to ensure the owner and crew's comfort in the cold climates where she will find her port of call.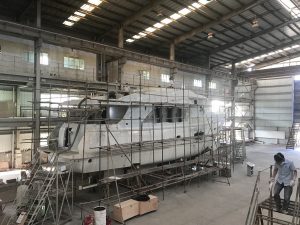 The new Selene 72 Ocean Explorer
A Selene 60 Classic has just been moved from the lamination hall to the main assembly line, along with a Selene 72 Ocean Explorer model lamination steadily progressing to the assembly line, while a Selene 49 Classic will soon be pool-tested.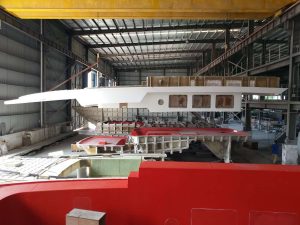 Hull number 42, of the 42 Voyager Sedan series, which is a very special 20th Anniversary Limited Edition vessel, is currently receiving new smart equipment, like raw water electro-vanes remote controlled from the helm, ultrasonic anti-fouling devices, a user-friendly compact entertainment system, a gyrostabilizer, a small steadying sail and a customized and very elegant classic mahogany interior with a touch of this classic Herreshoff style. This yacht is designed with the very personal involvement of Howard Chen for a very experienced owner who intends to cruise the Southeast Asian seas, where she will showcase Selene's know-how in the Gentleman's Yacht range.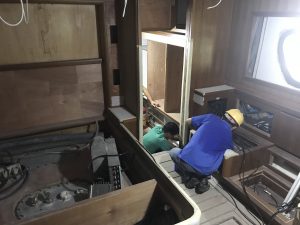 Finally, two exciting new projects are currently drawing their first breaths on Howard's drawing board, and should have taken shape before the end of the year! Stay tuned with the Selene shipyard life…