Mould story
Howard Chen and Selene Yachts have nurtured for twenty years a passionate love story with their yacht moulds. Our yacht moulds are our wealth, our tools, our know-how, our corporate history… We cherish them! 
30′ to 108′
This means that our shipyard teams can, on short notice, grab a mould with our powerful cranes, put it on a solid iron cradle, and start a new vessel in no time! Some wax and elbow grease and the first layers of gelcoat and fiberglass will turn a project into reality… It is as simple as that.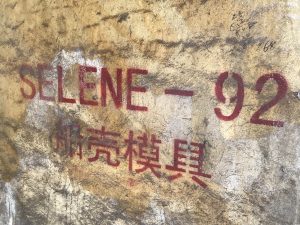 Many owners like to come and see their hull separated from the mould a few weeks after they order they yacht, even if it means a long-haul flight from Seattle or Paris. They do not want to miss that exciting moment! After all, it marks the beginning of an exciting journey for them and we make sure it's a meaningful event that remains fondly etched in the memory of the new owner.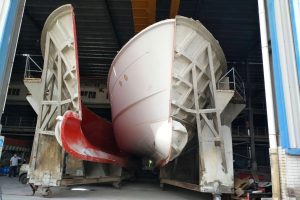 Dream machines
All our moulds are huge and complex matrixes that give birth to adventures. They will create memories, travel adventures and happiness. If they could speak, they could tell us stories about secluded fjords in Alaska, voyages in the warm trade winds of Polynesia or explorations of the Circle of Fire… 
From 30' to 108' ou moulds sleep peacefully under the moon and resemble monuments on the field around our production lines, they are our garden of dreams…