20 years ago, our very first Selene was launched!
Digging in our shipyard archives brought back to life some photos of our first long range yacht exported to the United States. It was our very first Selene 43, and it was twenty years ago… Twenty years of successful boat building, innovation and friendly relations with more than four hundred happy owners.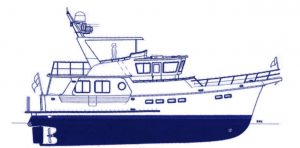 A new concept: the Personal Exploration Vessel
Over twenty years, Selene Yachts have established themselves as an industry leader through quality, solidity, reliability and innovative design in the trendy market of Personal Exploration Vessels. Fuel economy, range and seaworthiness will never be associated with speed, every sailor with a few nautical miles on his logbook knows that… When seas get rough every semi-displacement or planing power vessel has to slow down in order to plough through the waves, but still do not ride as comfortably as a displacement boat. As the years, and even decades, have passed, the cost of fuel and the concerns about a greener planet have increased the attention paid by yachts owners to fuel economy and lower carbon footprint on the water. Preserving our environment is no longer a fashionable trend, it's now a duty and a necessity…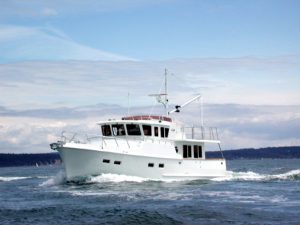 In the wake of famous navigators
Back in the 90s the introduction of modern-classic yachts like the Selene gave birth to a new concept. For the first time, long distance travels and ocean passages in the wake of navigators like Josuah Slocum or French captain Marin Marie on a private pleasure craft also included power vessels, its was a revolution! And the very first Personal Explorer Vessel, our Selene 43 designed by Howard Chen was built in 1998 in our Dongguan factory. 

Howard graduated from National Cheng Kuan University in Taiwan, with a degree in naval architecture. He spent 12 years managing shipyards in Taiwan and was fully aware of the characteristics of a high quality ocean vessel when he established his shipyard in 1998.
Endurance, Performance & Elegance
Twenty years later, Selene yachts are high class ocean going vessels and are capable of extended, long range navigation with a lot of interior space. Safety, comfort at sea and fuel economy are obviously always our major concerns… All Selene yachts combine the round bilges associated with full displacement hulls in the forward sections, while the aft sections feature more pronounced chines and a flatter bottom. This unique combination conceived by Howard Chen after years of boat building allows Selene yachts to perform like no other passage-maker on the market… Our motto has not changed since we launched our first Selene 43 in Seattle: « Endurance, Performance and Elegance ».