Selene Yachts Northwest factory visit
We have been the US Pacific NW Dealer for almost 4 years and have been involved in Selene commissioning and maintenance for 10 years. This was our 4th visit to the Selene Yachts facility in Zhuhai. It is always a pleasure to drop in on Howard Chen for a visit and get re-inspired about the wonderful yachts he creates.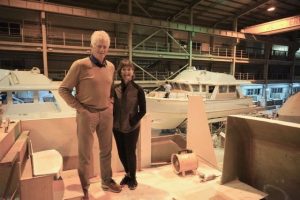 An impressive factory 
The factory in Zhuhai along the Pearl River delta is impressive. The damage from the 2018 typhoon has been repaired and Howard said that it has allowed him to upgrade parts of the factory and to make improvements. While we were there, we saw three new boats in the water. One was being delivered the next day, a 60 Ocean Explorer will be delivered in a month, and an 80 Classic Explorer is about to be delivered to a European owner. 
We also inspected several of the boats under construction in the factory. The 72 Ocean Explorer which is bound for France was fun to see… It has the new, more modern Guido de Groot exterior, but the owner, who owns a traditional Selene 62 right now, wanted a "classic" interior. 
First class woodworking!
The 60 Explorer that was in the water has the Guido de Groot interior and exterior. It was interesting to see how Howard incorporates the more modern look with less teak and softer, sleeker finishes. We like both looks, Classic and de Groot lines, and it's nice for potential buyers to have the choice for the same length… 
Many of Selene Yachts' workers have been with the company for a long time now, and we told Mr. Yang, responsible for woodworking, that his team's work is second to none. We have seen his high quality work in a 42 Voyager Sedan currently under construction for a European client who lives in Asia and who is a former Nordhavn owner. 
The Selene e-Manual
The Selene multimedia team supervised by Dominic, Howard's vice president, who is in charge of the company's international development, has been working to radically improve the Selene Ocean Yachts website and has done some terrific work for eighteen months with media coverage, 3D imaging and animation. His team is also working on an electronic owner's manual that will come preloaded on an iPad as an option for new owners. We got a sneak preview of this e-manual and hope to be demonstrating it at the Selene Owners Rendezvous in Roche Harbor, Washington starting April 25th 2019. Howard and Dominic have both made a commitment to attend the Rendezvous.
Selene Yachts and the new US tariff
We also discussed the new tariffs with China and have agreed to share the additional 10% tariff 50/50 between Howard and ourselves, the dealer. Hopefully, this tariff will not last or be increased. We have also agreed to a new payment schedule for new boat construction. When the order is placed, 20% will be due and sent to China, the balance of 80% will be due upon shipment. Howard is very upbeat and positive about the future of the Selene Yachts, and so are we. 
Robert Dunlop, owner Selene Yachts NW