Interview with the owners of a new Selene 42 Voyager Sedan
The owners of a Selene 42 Voyager Sedan which will be delivered soon came to the shipyard for the fourth time since the hull of his yacht was released from the mold. We asked them why they chose a Selene…
Why did you choose the 42 Voyager Sedan?
After having owned several boats, including some of the best ocean-going brands, we were attracted by the classic lines of the Voyager Sedan, but also by the construction quality and more over because of Selene's unique understanding of their clients' wishes. We have owned bigger boats over twenty years, even with a crew, and we wanted a compact yacht because our sailing plans have changed. We have no more ocean passages in mind. We told Howard Chen and Candy, the project manager, what we wished, and Selene has built our perfect yacht. Elegant, comfortable and easy to handle for a couple, or even single-handed.
What were your main wishes?
We strongly believe in classic interior, we have seen too many production boats with white oak joinery, bamboo bulkheads or wengé wood lockers doors! Those boats with a trendy design will end up looking like a highway motel. They will be outdated in three years. A yacht interior must be teak or mahogany, with a preference for the timeless Herreshoff style. We know that our Selene will still look classic in twenty years and will not be worn and torn after ten thousand nautical miles with squeaky floors and loose doors. A yacht must not resemble a floating condo with Italian furniture and an arm-long list of electronic gadgets, five-burner cookers, dimmers, wine cooler or TV display on a lift in every stateroom… We strongly believe in Mies Van de Rohe, the famous American Bauhaus architect's motto « Less is more… » Another thing was critical, we wanted to go far… Many of the so-called modern « trawlers » in the 40 to 50″ range that you can find on the market can barely cover 400 NM… We call that a weekend boat, not a passagemaker… And last but not the least we didn't design our boat with resale value in mind, because we always buy our boats for us and not for the next owner, but we also know that a Selene will hold its value over the years…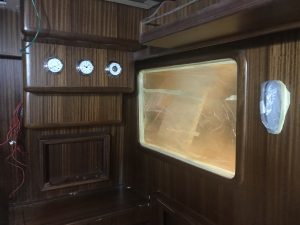 On the technical side, did you ask for anything specific?
The standard Voyager 42 Sedan as per Selene's design is ready to sail. But beyond that standard package, we have decided to install a gyrostabilizer and a Northern Lights generator without a sound shield. Having had to maintain six generators over twenty years, I understand too well the old saying, « out of sight, out of mind… » Selene has reinforced the sound proofing and the genset sits proudly at the back of the engine room, fully visible and accessible for daily inspection and service!
Did you install any cutting-edge entertainment systems?
No… Of course not! We don't go sailing for watching CNN or the soccer World Cup… And we don't want to waste hours fine-tuning the software of a yacht management system controlling the underwater lights and the hi-fi from a smartphone… We have no TV satellite dish or sound system on our boat. But we have asked Howard Chen to design extra bookshelves instead of a Blue Ray CD locker! We also built a desk with a concealed computer screen so that my wife and I can keep working while traveling. We don't expect to live with landlubbers' gadgets… People who call « creature's comfort » a dishwasher, a sound system with twenty loudspeakers throughout and a trash compactor obviously never had to fix all that hardware when it's broken in a remote Indonesian island! A yacht must be simple. We believe in the KISS philosophy, « Keep It Stupid Simple. » It works well on yachts! Beyond that, it's a matter of choice…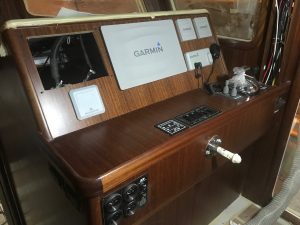 What did you consider essential when designing your yacht?
Simplicity… By all means. Our plan was not to build a marina queen in order to party at the dock. On the other hand, I have no intention to live 24/7 with my tools box while cruising! And the best way to avoid that is to limit the number of gimmicks. A single good Diesel engine, a robust generator, good batteries, a reliable steering system, a small tender with a 15 HP outboard we can drag on a beach by ourselves, a bullet-proof Force 10 cooker, a fridge and simple electronics, that's all a crew will ever need! Anything beyond that is unnecessary and will eventually cause problems. We have known owners who don't like sailing, but who like messing with their boat at the marina, constantly upgrading systems they never use… It's not my vision.
What would be the salient features of your new Selene?
Elegance, endurance and performance, as Howard Chen says. And Selene sticks to their motto. Our boat is all that. A long range coastal cruiser with first class gear capable of offshore navigation, extremely safe and comfortable to the point it can also be a live aboard vessel.
It doesn't matter… In Australia, southeast Asia, Japan Inner Sea or the Med, spending time on a boat is always pure magic when the boat is reliable, easy to maintain and comfortable. One of the reasons we wanted a compact yacht is because we may eventually load her on a cargo ship to explore new playing grounds like the Pacific Northwest or Northern European seas… It's easily doable with a 42′ boat, and at a reasonable price. We want to see our new boat, like the previous ones, as a life enhancer and not as a financial or technical burden. This is why sizing the project, refining the specifications and a sound cooperation with the shipyard is essential, and Selene's teams were ready to help from day one. We have found our perfect yacht…