"Private Exploration Vessels", the Selene philosophy
We, at Selene, have taken the option to remain loyal to our initial proven concept: long range and stable yachts, which can also be a second home for those adventurous mariners who have chosen a different lifestyle. And we have no intention to compromise with the fundamentals of a real passagemaker, or private exploration vessel. 
Many « hybrid » boats that can be found in the so-called « trawler » market are semi-displacement boats that can hardly cover 400 NM at cruise speed. And when we mean hybrid, we don't mean Diesel-electric vessel, we mean boats which look like a trawler, but with the performances of an ordinary cabin-cruiser cruising at 25 knots and loaded with complicated gadgets like swinging transom or expanding coamings aimed at creating an artificial beach and playground at anchor… 
The urban legend…
Unfortunately, if those boats may be very nice weekend or holiday yachts, none of them are really long-range offshore vessels. And never will be. This is why we are sticking to our traditional classic timeless design and philosophy. We will never consider that for a boat that ends up being the home of a couple or family for years, 4 or 500 NM is sufficient range. We will never consider that a yacht can go slow and fast at the same time with the same hull shape and the same systems. This is an urban legend, or at best a marketing ploy… 
Displacement hulls can go far. Semi-displacement hull go fast. But reducing the speed of a semi-displacement hull to displacement speed will not take you as far, and certainly not with the same level of comfort and stability as a proper displacement hull. It's as simple as that, and it's a well-known fact that every marine architect will be aware of.
Displacement yacht and fast tender, the perfect couple
This is why at Selene, we invest all our energy in well thought-out displacement vessels which are ready for circumnavigation or coastal cruising without compromising stability or comfort. Throughout the years, Howard Chen has refined hulls which have sailed around the world, crossed the Atlantic and Pacific oceans without any hiccups like "Jade", a Selene 66 Classic Explorer, which has recently sailed from New Zealand to Alaska, and can easily reach 11 knots, making our yachts « Fast Full Displacement » boats. Besides that, all our engines always have proper reserves of power for rough seas and bars crossing, while a good planing tender can complement the « mother ship » for island exploration, or frequent resupply trips to shore…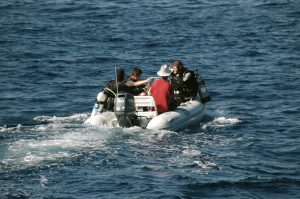 The magic is under the waterline…
Changing the shape of the superstructure of a yacht is a piece of cake for any yacht designer. Calling a standard motor yacht a trawler because its new superstructure is boxier, and then adding a Portuguese bridge doesn't turn a common cabin cruiser into a long-range passagemaker! The serious business is under the waterline, in the engine room and the drive train. And in this respect, nothing can replace the experience of a reputable ocean-going yacht builder!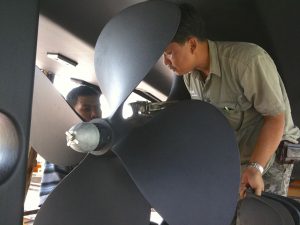 A changing world
Another critical issue is the fuel burn. A full tank of Diesel will probably last a full season on our displacement boats. With a Selene 49 or 54, one can sail from Cannes to Corsica, stay at anchor with the generator running day and night for a week, and eventually still sail to the Balearic islands before heading to Barcelona… No semi-displacement or planing hull can do that without bunkering ten times at the fuel dock! There is no need to have deep pockets to be able to roam the seven seas on a displacement vessel… 400 happy Selene owners understand that. And 400 people cannot be wrong…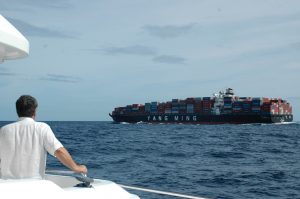 We live in a changing world where everything tends to become « greener »; packaging, clothing, cosmetics, wine, motor car engines, airplanes, electrical bicycles and even cotton buds! Major shipping companies are contemplating a project of resurrecting cargo ships equipped with sails to save costs… The carbon footprint of any product has become part of any responsible decision-making process, whether private or governmental. When we know that our planet is at risk, then why would we have a different approach when building or acquiring a pleasure craft? Why should we waste money on fuel when time is free? Why should we jeopardize the legacy of our children for the sake of driving a boat at 40 knots for a couple of hours until the tanks have run out?
Epicurean philosophy
Going places at 9, 12 or even 15 knots leaves plenty of time for dreaming, thinking, listening to music, communicating with our loved ones on board, whereas cooking or reading whilst rushing at 40 knots requires the undivided attention of a jet fighter pilot and brings little benefits, and in many cases is a cause for accidents, collisions, technical failures, or expensive service care…
We at Selene have decided to remain loyal to our legendary classicism and epicurean philosophy… But under the skin of our beautiful ocean-capable vessels, we constantly refine our systems to make our yachts more reliable, greener, easier to maintain, and user-friendly. Meanwhile, solid and reliable improvements are made behind the scenes, and we don't see the point of advertising fancy innovations that will only last a season, or will be attractive during a boat show, only to be forgotten and useless at sea.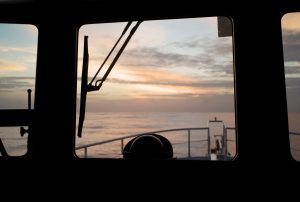 Endurance, Elegance & Perfomance
We have definitely not opted for the fashionable glitz and glamour approach. Howard Chen has opted for endurance, elegance, and performance. The 2019 Selene yachts are better than ever, and quietly keep cutting their wake through the world's oceans… This is why a Selene will always be a Selene.