Yes you can!
I remember having read somewhere a long time ago in some ancient British book about marine construction that one can calculate the cost of a yacht according to its weight. In other words, it could theoretically be possible to buy a boat by the kilo. Like potatoes. And why not? Shouldn't a small boat be cheaper than a larger one? But on the other hand, the smart question is… how much per kilo of what? A boat can be 10 tons heavier than another, but if it's 10 tons of lead or iron ballast, it should not be paid at such high prices…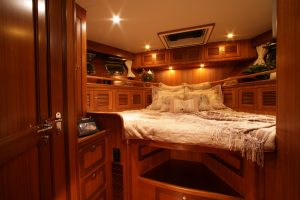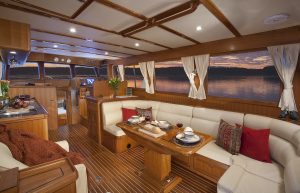 The Selene prices
Let's cut this grocery business story short, which is, as you've understood, all about yacht prices… Why are Selene yachts so well priced, despite belonging to the upper end of the market with their luxury interior, and state-of-the-art engine room and systems? Do we use cheaper raw material per kilo? No, of course not! Do we build with less resin or beams to make petty savings? No, obviously not! Several of our 400 owners would have noticed already… Do we underpay our workers? No, they would all have deserted! 
The Selene way
Like the other boat builders in our league, we only use premium gelcoat, the best fiberglass fabric, marine grade 316 stainless steel and legal timber. Then, you may wonder, how can we be so competitive? Our trump card is the simple fact that we own our shipyard, and its land, in the Pearl River delta. This is our secret. Not so much a secret now, since I just told you! And this is how we reduce drastically our overall expenses. We have also chosen to have an in-house marketing team rather than costly sales offices abroad. We prefer to cooperate with our dealer's network all over the world and invite our customers to come and see us at the factory to design their boat and place their order. This is the Selene way, and it works well for us.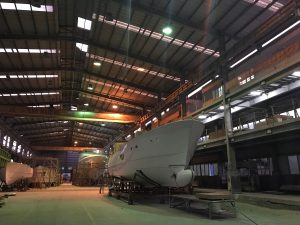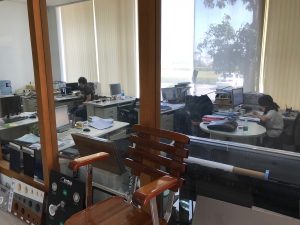 We also save money because we don't subcontract any jobs to a third party or partner company. We don't have to hire land and we own our buildings, and therefore we have plenty of space for the lamination halls, the joinery workshop, the iron shop, the assembly line, our in-house chandlery, etc. We even manufacture our custom-made teak decks.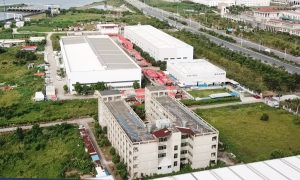 The Selene spirit
Our second biggest asset is our loyal employees. Most of our engineers, technicians and workers have been with us for fifteen years and even since the happy days of the very first boats exported to Seattle! It would not be uncommon to ask one of our veteran carpenters « do you remember if hull 5307 had a V-berth or an island bed in the forward stateroom? » And most likely, he will recall the layout, the wood essence, and the exact number of overhead lockers! This is the Selene spirit…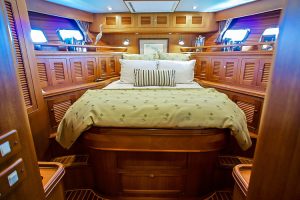 No need to be a tycoon to own a Selene!
Although they have a serial number from the moment they are released from the mould, our boats are not mere numbers… They come to life like a unique piece of art. They are handmade jewels, tailored for demanding people who do not necessarily have to be Wall Street tycoons or listed in the top ranks of Forbes to afford one of our beautiful yachts… After a friendly discussion at the shipyard, all the potential owners who come to see us conclude their visit with sparks in their eyes « I was not sure I could own one day such a yacht… But, now I know I can! »
Yes, you too can also buy your Selene… Don't wait. Time flies… There is no such thing than a custom handmade yacht, at production price…
Howard Chen