Asian Logbook, Phang Nga bay & Krabi
North of the Malacca Straits, lies the large and popular island of Phuket, the Krabi province, and the picturesque Phang Nga Bay with its limestone cliffs. For over twenty years now, navigators have sailed from all over the world with their sail and power yachts to witness these beautiful destinations.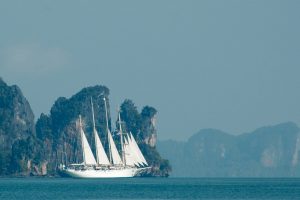 Calm waters all year long
Phang Nga Bay and its 42 islands, are ideally located for protection against the Northeast and Southwest monsoon seasons, allowing its waters to remain calm for the larger part of the year and making it an excellent mooring point for exploration of the region. In popular culture, the most famous spot of the Bay is the so-called James Bond Island, a needle formed by limestone rock and featured in "The Man with the Golden Gun." Sadly, it is also a popular destination for mass tourism, and many lovers of the sea and nature choose to drop anchor farther away… such as further south, at an islet near the famous island of Kho Phi Phi where another movie was filmed; "The Beach" based on the novel of the same name by English author, Alex garland. But be warned, if the former is crowded with tourists on a daily basis, the second is simply overflowing…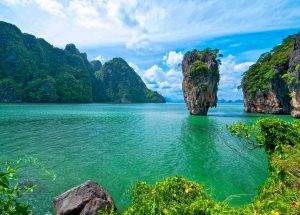 All that being said, the site is worth seeing, and Phang Nga Bay was once compared by an American Selene captain to the Chesapeake Bay or British Columbia, with its peaceful waters and beautiful scenery. 
The best Asian marine hub
Many fishing boats and charter companies operate from Phuket, and the island is well equipped with an abundance of technical facilities with several Travelifts, shipyards and mechanical, fiberglass and joinery workshops. Several international brands like Cummins, Lugger, Northern Lights, Simrad, Raymarine, Victron or Mastervolt have dealers and agents on the island and can offer after-sale services. Phuket even has its boat show in January and several well appointed ship-chandlers! No to mention that Rolly Tasker, one of the best sails maker in the Northern hemisphere which has produced more than two million ocean cruising sails over 60 years, is established in Phuket.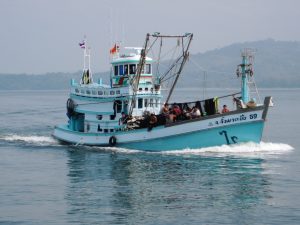 The four large marinas of Phuket have now hosted several Selene Yachts for some years already, and offer first class services, including hauling-out, hospitality services, provisioning, and technical support. And if more options are required, a brand new marine in Krabi has slowly been expanding, attracting more and more yachts to its pontoons.
With daily flights from Bangkok, Hong Kong, and other neighbouring countries, this once quiet island has turned into an exciting marine hub for sailing, scuba diving, and many waterborne activities, and is surrounded by beautiful locations such as the nearby Similan islands.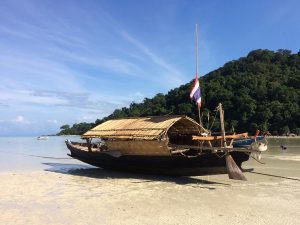 Two more Selene yachts soon in Thailand
Most captains and crew who have chosen Phuket as their port of call reckon that it may take years to explore the Phang Nga bay and its many archipelagoes. No to mention that the beautiful Malaysian island of Langkawi is only 120NM south of Phuket. In the coming weeks, two more new Selene Yachts will reach Phuket…