New Selene 42 Voyager, launched!
Our logistics team is proud to announce it has successfully launched a new Selene 42 Voyager Sedan, who's proud owner has joined us from abroad to share in this moment! Sea trials will begin this week in the Pearl River delta, where all systems, main engine, stabilizers, water-maker, generator, steering systems, air conditioning, and navigational electronics, will be tested and fine-tuned over the next two weeks. Once the tests have been completed, the yacht will be dry docked in Hall 1 for final commissioning, cleaning, polish, upholstery, and canvas work.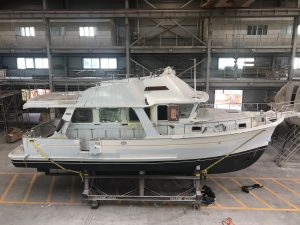 The Selene 42 Voyager Sedan  is one of the best-seller of the Selene yachts lines. Combining the advantages of contemporary technology, with the timeless qualities of a classic hand-made cruiser, all at a reasonable production-boat price, she is without a doubt an eye catcher in British Columbia, the Bahamas, Singapore, or trendy French Saint-Tropez….
A long-range yacht
With her relatively shallow draft and folding mast she is ready for the European canals system or the American Great Loop! But it is in long range coastal cruising that the Selene 42 Voyager Sedan truly shines. Travelling in style with a capacity for extended sea voyages with no less than a 1,000 NM range at 9 knots, she can easily be operated singlehanded or by a couple. In fact, the owner who is in his 60s, intends to take her down to Australia and New Caledonia following the Indonesian coastline and the Great Barrier reef! A long but exciting voyage…
A gentleman's yacht…
The vessel accommodates four to six passengers in two cabins and one head with a separate shower. It sports all the features of a luxury family yacht or a live aboard vessel, with a generator, climate control and a large flybridge, but with elegance, simplicity and easy maintenance for the owner-operator. With her new superstructure and European, Floridian or Mediterranean flair, this yacht is equipped with a single John Deere 180HP Diesel engine and even a small stabilization sail extremely useful at anchor! She has a beautiful mahogany interior, period lights, faucets, Art Deco bespoke door handles, Chesterfield upholstery throughout and a simple  but well-equipped galley.
This Selene 42 Voyager Sedan is a typical gentleman's boat which reflects all the Selene shipwright's know-how and talent…