Icarus project
Selene is always at the vanguard of innovation and greener technologies. For several months now, SDS, our Selene Design Studio, has worked on a new, hybrid concept, and we are delighted to lift the veil on our new "Selene Icarus" model based on the works of a somewhat well known Italian designer called Da Vinci. This international cooperation between Leonardo and Howard has lead to the combination of our existing Selene yachts with a very elegant blimp, resulting in a stunning and promising flying passagemaker!
25 knots at 10,000 feet
With a maximum altitude of 10,000 feet in order to enjoy the scenery unfolding under the yacht's hull, the Selene Icarus will have virtually unlimited range, and will be equipped with an inflatable blimp adjustable on top of all Selene models ranging from the 38' to the 92'. The main engine will be equipped with an air cooling system, and a PTO pump will supply hydraulic power to the two port and starboard carbon propellers. Optional paravane wings may be added for stabilisation under way. Expected speed will reach the 25 knots, and experienced captains will always be able to take advantage of the trade winds. For landings, the standard yacht's anchor and rod will be used for the sake of convenience and familiarity.
A flying tender
Part of the Selene airship package will be a flying dinghy with a delta wing and Rotax 115HP engine. And though some owners may have to pass the adequate license to fly or moor the vessel in front of their house or in their garden, when in international waters and open skies, no specific regulations apply! Although we do recommend practice with at least a hot air balloon before embarking on long, hybrid passages. Obviously, a weather radar and wind instrument are highly recommended.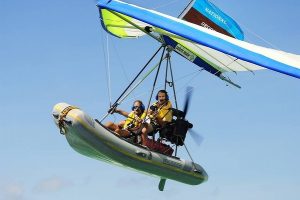 Once the Selene yacht is back in the water, the blimp is deflated and fits on the boat deck into a lightweight FPR canister the size of an ordinary life raft, which can then easily be redeployed with gas produced by fuel cells.
Selene Yachts' ambition has always been to push to the limit! We wish you all safe travels and fair winds on your Selene yachts on this 2019 April's Fools Day!