On Howard's drawing board
Even if our previous post in the News section about a flying Selene passage maker was definitely an April's Fools Day joke, Selene's design teams are truly pushing the limits with several, new, exhilarating projects… Amongst them, a completely new 70' bi-hull exploration vessel conceived on Howard's drawing board over the past several weeks.
During his visit to the shipyard, the owner had several critical preliminary requests: a shallow draft, long range capabilities, speed in the 20 knots at cruising RPMs, classic lines, length and beam adjusted to the secluded port where the yacht will be kept, and wide open space inside and outside for entertaining his guests. It was certainly a challenge, but our Selene Design Studio and engineers love challenges…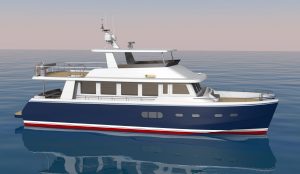 CFD analysis of the hulls
From initial drafts on table napkins – a telltale sign of Howard's style for over twenty years now – to 2D and 3D renderings, and finally, CFD (Computational Fluid Dynamics) analysis, this beautiful vessel now makes the transition from dream to reality.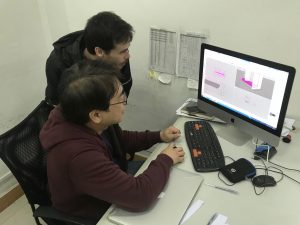 The owner's requirements specified three staterooms, the starboard hull being dedicated to the owner's suite, two guests cabins with ensuite heads in the port hull, a large open-plan kitchen connecting to the wide cockpit, and an expansive upper deck with a powerful davit. Both hulls have a spacious utility watertight compartment between the living quarters and the engine rooms for cold storage, workshop, spare parts, provisioning, laundry, and obviously, sound proofing.
Jet propulsion
On the technical side, the required shallow draft and speed could only be reached with jets and a smart steering, docking, and autopilot system connected to twin 1300 HP engines pushing at the adequate speeds. Two generators, watermakers, and a hydraulic stern platform will complement the equipment. The interior design is light, and widely open to the exterior.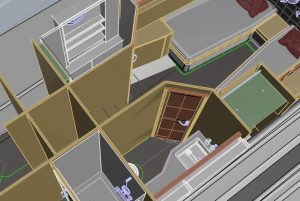 A light and fast exploration vessel
The design team and our engineers are currently in the final phase of mechanical, electrical, and plumbing drawings and schematics. With a highly performing hull, reduced wet surfaces and lighter, but Selene bullet-proof construction, this new bi-hull yacht will offer the best lift, stability, and load bearing capability and very little lateral movement. The adjusted buoyancy allows for adequate horsepower ratings and the best balance of comfort and efficiency. She will offer excellent seaworthiness in rough conditions…
Another great Selene Yacht!