A new Selene Explorer!
Designed for an experienced American owner and captain, the new Selene 70 bi-hull's goal is to give her owner access to the very shallow waters of the Caribbean and the Bahamas. With a reduced beam and draft, and long-range capacity like any other Selene yacht, this new explorer has no limits and can enter any tight marina or shallow lagoon! She will be perfect for the Pacific and Southeast asian waters too.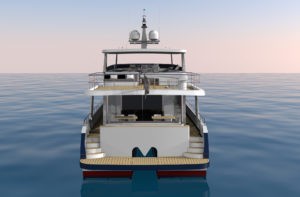 Low Draft and High Speed
Starting from a blank page, we eventually opted for Hamilton jet drives in order to save a few hull depth centimetres reducing the draft to 3'-9" ( 1.15 m ). A light, but bulletproof, construction will also reduce the wet surface. At the cruise speed of 24 knots all stability tests are satisfactory and this boat is ready to sail  in style!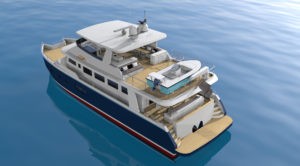 The interior will be classic and bright with a wide living space and galley connected to the cockpit, along with the pilothouse being a captain's dream with a large dashboard, capable of hosting a full array of electronic displays and instruments. The owner will also enjoy a superb three-stateroom layout with optional crew quarters, and, obviously all staterooms have ensuite heads. Finally, close to the engine compartments with full height, two large utility rooms will host the laundry and cold storage to starboard, with the water makers and the electrical room to port.

Iconic Selene Lines
A large flying bridge with an open-plan galley, loungers and three helm seats will be a perfect place to entertain guests at anchor or while underway to destination. The space can accommodate a large tender as well as comfortable seating for eight, and can easily be accessed from the outdoor stairway in the cockpit or from another inside the pilothouse.
With her iconic blue water style and lines, Selene Yachts banks on innovation as much as on tradition… A 45' version of this bi-hull model is already on Howard's drawing table.