A new 49 Classic Explorer in the lamination hall
Our teams have launched today the production of a 49 Classic Explorer for a very experienced and demanding owner who has owned several motor yachts. The hull mould is already being waxed!
The Selene Classic Explorer line combines old world craftsmanship with new world technology. Whether crossing the oceans, meandering through tropical islands with warm trade winds at your stern, negotiating threatening rapids in British Columbia or dodging icebergs in Alaska or the Inside Passage, Selene Explorers take up the gauntlet !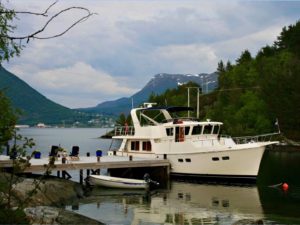 Be your own skipper
The Selene 49 Classic Explorer is tailored for the Great Loop, gunk-holing in the Bahamas, islands hopping in Indonesia, extended coastal cruising in style in the Mediterranean sea or Australia. Be your own skipper! All Selene boats have in common to be elegant, reliable and they can safely face the ocean in comfort. Selene's philosophy is that a good boat must also be a beautiful boat…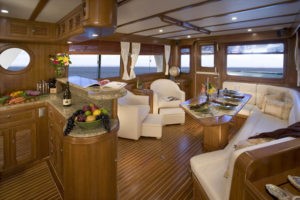 A new deep hull
The Selene 49 is the "next generation" of the very popular Selene 47. It features the Deep-Hull™ design and Cruiser Stern™ which improves headroom in the engine room and lazarette by one foot and makes the hull even more efficient than its predecessor. The Selene 49 Classic Explorer has a very traditional classic « salty » look.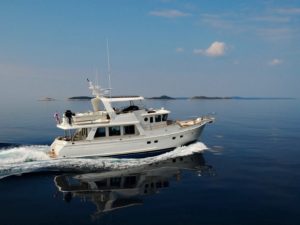 With a wider flybridge it gives space for entertaining friends and family in the open air. The two or three-stateroom accommodations down below are spacious and the master and VIP staterooms have a queen-size island berth.
High luxury
Being the flagship of the smaller Selenes, the 49 Classic Explorer boasts a level of luxury normally only found on its larger sisters, but all in an affordable package that's easy to handle as a couple.