Selene 60, the compact super yacht
Exploring the Seven Seas and the undiscovered Edens of the world requires a powerful, safe and reliable vessel. For the mariners prepared to sail off the beaten track at the helm of their Selene yacht, a world of wonder awaits…
Our new Selene 60 Ocean Explorer is the smallest vessel of the Selene Explorer line ranging from 60 to 92'. A first look, the Ocean Explorer line designed by internationally renowned naval architects Guido de Groot and Howard Chen shows a number of the Selene family traits with her commanding pilothouse, Portuguese bridge, and bulbous bow. But a contemporary twist is also apparent in the addition of the large side windows in the hull and curvy superstructure. 
A long range cruiser
One of the salient features of the Selene 60 Ocean Explorer is her long range and low fuel burn, and it's obviously, like all Selene yachts, an exceptional live-aboard boat for a couple or a family contemplating a circumnavigation in style. Several Selene owners keep working from their yacht and have turned it into a floating office; nothing can be easier those days with a good 4G Internet provider! And several Selene Yachts were built with a real study that can also be used occasionally as a guest cabin…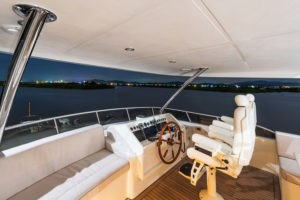 A high level of luxury
The Selene 60 Ocean Explorer, with its modern lines is sure to appeal to existing owners and boat enthusiasts alike and takes the simple and proven concept of the fuel efficient and seaworthy long range yacht to a new level of luxury that is intended to compete with the finest European or Australian boatyards, but at a more competitive price! One recent model was even built with a jacuzzi on the foredeck instead of the forward deck saloon and a smart floor heating system… The Selene 60 Ocean Explorer is tailored for the Australian Whitsundays, the Mediterranean Sea, the Bahamas, the North-European fjords or the Pacific lagoons…
Three staterooms and crew quarters
This yacht has a brand new styling profile and a layout that contains three luxury staterooms. Although the yacht can easily be operated by the owner, it has a comfortable crew quarter aft with full head for a captain or steward, which can also double as a fourth cabin. Twin or single Cummins or John Deere engines are available for the propulsion system depending on the sailing plans. Owners can select a classic stabilisation system with underway or zero-speed fins or a gyrostabiliser. Our engineers and technical teams have already helped 450 owners to design and build their dream boat since 1999…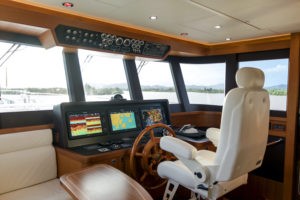 Another Selene custom yacht
Like for all Selene yachts, the interior can be contemporary, similar to the Selene 92 and 72 design, or classic inspired by the famous and  timeless Herreshoff style. Our decoration team offers several wood essence, European high-end galley appliances, elegant light fixtures, practical furniture, and there are three versions to choose from, "Full Wide Body", "Port Side Wide Body" and "Standard Two Side Decks".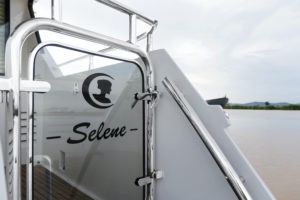 Compact super yachts
Those Selene Ocean Explorer yachts have no limits, not even the horizon… Beyond our line of owner-operated classic trawlers and Voyagers, the Selene Ocean Explorers from 60 to 92' are versatile and bespoke small liners tailored for a discerning owner, with up to eight guests and a crew of two to five, who want to cruise extensively and want to spend months, if not years at sea, in absolute comfort and independence. And the Selene Ocean Explorer line is RINA and ABS-certified.