The Day After…
It's been two weeks since our last update regarding our activities at the Selene shipyard. And today, we want to let you know that we're still focusing on yacht production, as we have since 1999. In light of the impact of COVID-19, we have obviously enforced all the safety procedures required by the Ministry of Health and the World Health Organization, ensuring that all our workers are protected, performing their duties in a safe environment.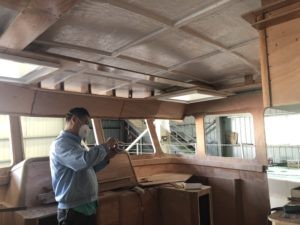 The popular Classic line
While a period of calm was to be expected in light of such an event, we are also receiving enthusiastic requests and inquiries on a daily basis from potential customers who are now anticipating the end of the pandemic. They have already started planning for "The Day After" on board a Selene yacht tailored specifically for long-range, living space, safety, stability, autonomy, and comfort at sea. From 45' to 60', the Selene Classic line is the most popular because of its salty look, and bullet-proof reputation all over the Seven Seas. 
Re-discovering the world
Without necessarily being survivalist preppers getting ready to face the apocalypse head-on, Selene has a significant number of yacht owners who are attracted by the philosophies of being autonomous and self-reliant with their family, far away from the troubles of dry land. Not to mention the many optimistic captains and owners who know that once this terrible situation finally comes to an end, there will remain a vast and beautiful world to explore and adventure in. A world filled with isolated archipelagos to rediscover, witnessing enchanting animals reclaiming their habitats, and simply the joy of cruising through crystal-clear waters.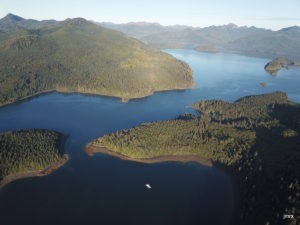 120 days at sea!
In fact, one of our Selene customers reminded us recently that, some years ago, he spent 120 days at sea on his 62 footer, without ever calling-in to port. The captain, his wife, and their 14-year-old son who was "boat-schooled" were not even crossing the ocean, as much as they were simply enjoying the lifestyle and gently cruising along the shores of Southeast Asia. According to the captain, the only time they disembarked was to hunt down a Christmas Gift somewhere along the coasts of the Philippines, Thailand, or Indonesia. 
But what really excites us about this story is the idea of a captain and his family taking full advantage of one of our Selene floating dreams. Even with three months of sailing, the galley, commissary, lazarette and deep-freezers all contained enough food for another three months riding the waves, not to mention enough fuel to continue on to any destination of their choosing. More, if they felt the need to be economical in their consumption.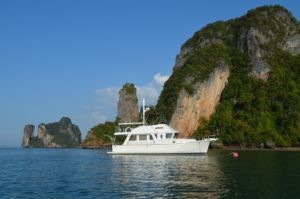 And contrary to the old days when sailing into port every now and then was a necessity to catch up on current events and collect mail, a good 4G internet connection now means that the world remains at your fingertips even in the most secluded regions of the world. 
Living off the grid
A well-stocked pantry, a couple of solar panels, a water maker, and our die-hard engines and generators, and there is nothing easier and more enjoyable than living "off the grid" on board a Selene home of the Classic Explorer line…