Selene News
Dear Selene fans and owners, we are living through extraordinary, rapidly changing times, and our company is reviewing its marketing strategy with new investors and projects, leading to a modern business model that reflects the novel reality.
New dealers network
Selene Yachts is currently finalizing partnership agreements with new dealerships in the United States, Australia, Chile, Dubai, and South Africa.
In addition, our Ex-Factory Direct Sales department was recently reinforced with a new sales manager; a licensed captain and qualified maintenance technician with more than twenty years of experience in the industry. And finally, our alliance with a reputable logistics company will also ensure the ease of deliveries of yachts through the use of their freighters.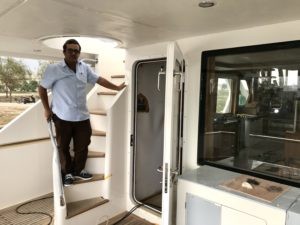 Licensed Selene Service Centers
We are currently setting up a first Selene Service Center in Southeast Asia, licensed with a SASC, or Selene After Sales Certificate, with a boatyard crew trained at our shipyard in the main aspects of boat building, ranging from fiberglass repairs to engineering. We are hoping to have several of such boatyards with the official Selene certification, allowing to qualify as a Selene Service or Warranty Center for our Selene owners.
Although the Covid-19 pandemic hasn't affected our teams and factories directly, it has given the opportunity to think about the development of our company and brand, and plan for the "day after…"