A Selene stock boat just sold
A stock Selene 49 Classic Explorer has just found her owner! Congratulations!
The Selene 49 Classic Explorer is the flagship of the small Selene yachts with the Deep-Hull™ design and Cruiser Stern™ which improves headroom in the engine room and lazarette and makes the hull even more efficient. The Selene 49 has a very traditional « salty » look from the outside. Another significant difference is a wide flybridge giving space for entertaining friends and family with style in the open air, with ample room on the aft deck for a dinghy and hydraulic crane.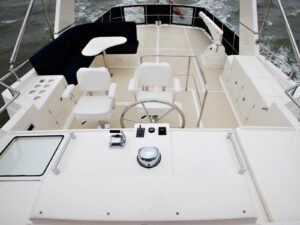 The Selene 49 is an excellent long range cruising boat. At 1,800 rpm, the Selene 49 has a cruising speed of 8.5 knots for a range of 2,000 nautical miles. The Selene 49 boasts a level of luxury normally only found on its larger sisters in the range, but all in an affordable package that's easy to handle as a couple.
Selene stock yachts never last very long!