Selene 42 Voyager yachts all over the world…
Selene owners have shared with us photos of 42 Voyager Sedan yachts cruising in the Pacific Northwest and Southeast Asia. The two yachts are 10,000 nautical miles apart but both fly the Selene burgee proudly! The Voyager 42 Sedan is a perfect gentleman's boat with two staterooms, a large saloon, a well-appointed galley and an amazing exterior space on the flying bridge, the foredeck and in the cockpit.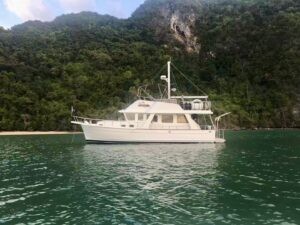 1,000 NM at full speed
With a range of a thousand miles at full speed, and not less than 1,700 NM at 7 knots, the Voyager Sedan is a long-range coastal cruiser ready for blue water passages. The owner of the boat cruising in Southeast Asia has taken her along the Malacca Strait, one of the busiest waterways in the world, on an exhilarating journey along the coastlines of Malaysia, Indonesia and Thailand. Other Selene Voyagers Sedan and Aft cabin yachts are reported to have sailed from the Selene shipyard in Zhuhai to the Gulf of Siam via Vietnam and the Philippines without any issue. The 42 Sedan is much more than a pretty leisure craft! She shares all the features of her bigger sisters and is a wonderful live aboard vessel for a couple with occasional guests.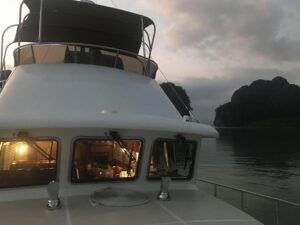 A best seller!
With a rather shallow draft, the Voyager can drop the anchor in any secluded bay and creek or explore rivers while the crew enjoys the comfort of a luxury yacht. The Voyager line, with its timeless design and reliable, redundant and constantly updated systems, is one of our best-sellers for two decades.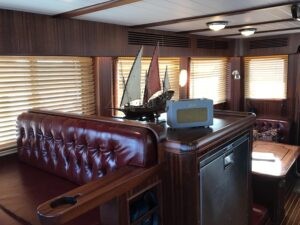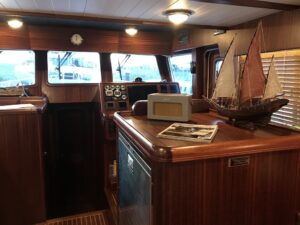 A classic interior
The owner of the Voyager currently cruising in Southeast Asia says that he couldn't be happier, with his gyro stabilizer, a powerful water maker, a hydraulic get-home motor, a fully integrated Garmin suite of navigation aids and last but not the least… a classic Herreshoff interior design…