A new Selene 88 Fishing under construction
The construction of a new Selene model, an Ocean Explorer 88 Fishing, as just started at our shipyard. Based on the Selene 72 Ocean Explorer just launched a few weeks ago, the design and specifications of the Selene 88 Fishing has been customized for an experienced fisherman and navigator.
A world voyager
The Selene 88 Ocean Explorer sports twin engines, live fish tanks and a large dedicated fishing cockpit. She will indeed be an exceptional vessel ready to go in all aspects, fishing expeditions, extended offshore passages and remote cruising. With 3,200 gallons of fuel and its extended range, the playground of this yacht will be the South China Sea and the Pacific Ocean.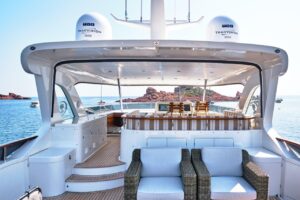 Safety and comfort for twelve passengers
As any Selene yachts, she will be a superbly built and comfortable passage maker with accommodation for twelve passengers in six comfortable staterooms and four heads. With twin engines, two generators and a gyro-stabilizer in the engine room, the new Selene 88 Fishing is ready for world voyages and is also tailored for charter in style.
More news to come on this exciting Selene yacht, stay tuned for construction photos, renderings and specifications…