Selene Yachts increasingly popular in New Zealand
The Covid vaccination campaigns throughout the world have started to bear fruits. More and more people are inquiring about yachts to free themselves after more than a year of lockdown. It's the case in New Zealand, which, thanks to a successful public health policy has been able to join the group of « Zero Covid » countries alongside several Asian countries.
A long story in the famous French boating magazine Neptune on the recently launched Selene 72 Ocean Explorer has also stimulated many inquiries. The Selene 72 Ocean Explorer will be shown at the next Cannes Bot Show by our French Selene dealer in Europe, Louis Charles Koubi,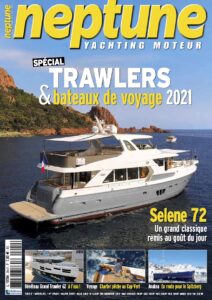 New Zealand, a Selene booming market
Recently, two new Selene were sold to their happy owners in New Zealand. Selene long range trawler-style and sedan yachts are proving increasingly popular with New Zealand boat owners with two already sold in just the first two months of 2021 and surprisingly large amounts of serious interest being shown in a large new just-released 24-metre model.
According to Gary Erceg from New Zealand Selene distributor, Yachtfinders Global, a 13.7-metre Selene 42 Voyager Sedan long range coastal cruiser and a 19.8-metre Selene 60 Ocean Explorer expedition cruiser are both now making their way to New Zealand for their new Kiwi owners. « Although ocean-capable yachts are quite a niche market here, there is no doubt that the Selene range really appeals to Kiwis » he says.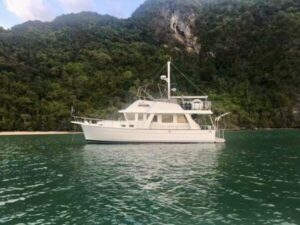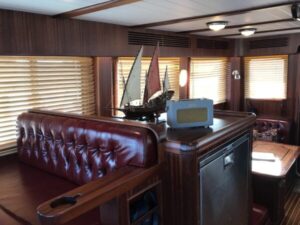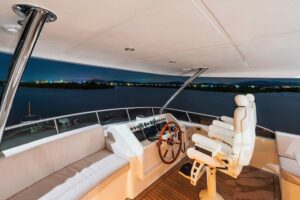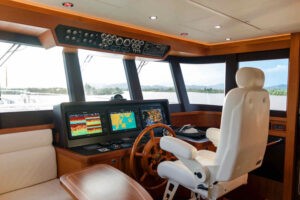 The Selene 42 Voyager Sedan, a gentleman's yacht
He says the quality of the yachts' build, their ocean-going capability, walkaround decks and traditional handcrafted teak interiors are what really sets them apart. « Owners also really enjoy the ability to completely customise their cruisers. » A traditional-looking trawler style long-range cruiser, the latest New Zealand-bound Selene 42 Voyager Sedan boasts two superbly-appointed staterooms and great all-round visibility from the saloon. It will be fitted with both a bow and a stern thruster for easy two-person handling and a diesel heater for year-round cruising.
The new Selene 60 Ocean Explorer is the first of the new range of stylish expedition cruisers. With a modern, streamlined look, a Portuguese bridge, wide body and fantastic indoor flow, it too is easy to handle with just two people, making it ideal for couples of all ages.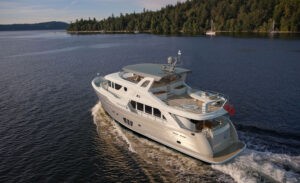 The Selene 78 Ocan Explorer, a mini ship…
Gary Erceg says he has been pleasantly surprised at the interest already being shown in the just-released Selene 78 Ocean Explorer. « A true ocean-going mini-ship, this is a seriously impressive vessel," he comments. "With very contemporary styling, this 24-metre yacht is perfect for those who like to explore, entertain and spend time away with friends and family. It is incredibly well appointed and, for those looking for a larger vessel, there really is nothing else like it. »
Those in New Zealand wanting more information on the impressive Selene range can contact Gary Erceg the Selene New Zealand dealer.