Attention to detail
Our shipwrights' creativity knows no limits… They are now designing and making new interior furniture for our yachts! And they make sure it matches the timber inside. Attention to detail has always been one of our priorities… Building a Selene takes several thousand hours, and the interior finish, which has always been one of the hallmarks of Selene yachts for more than twenty years, is paramount.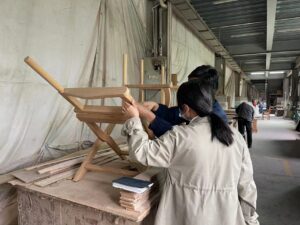 All Selene yachts are different
When we build a Selene, we always take into account our customer's lifestyle and taste. This is why all Selene yachts are different. Selene yachts are not production boats, but semi-custom, handcrafted, solid vessels that are available to you at comparable production boat pricing.
There is a big difference between a recreational "trawler" and a true ocean-going passage maker like a Selene. The ability to power with confidence across any sea or ocean in safety and comfort is chief among reasons experienced boaters go to Selene, whether their adventures are coastal, global or somewhere in between.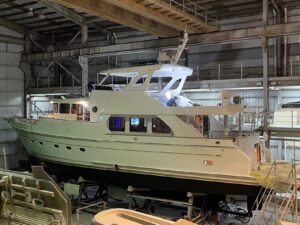 Handcrafted and reliable vessels
The differences include stronger hulls, watertight bulkheads and doors, full skeg protected propeller and rudder, backup bilge pumps, large scuppers, continuous duty engines, and automatic engine room fire extinguisher systems.
The design incorporates the fuel efficiency of a full-displacement hull. A full-displacement hull is designed to remain fully in the water throughout its entire range of speed. This requires a fraction of the horsepower that semi-displacement or planing hull requires to attain optimum speed. A full-displacement hull will be capable of maintaining speeds in the 7- to l2-knot range while burning a minimum of fuel.
We design and build our yachts, in our factory from the first drum of resin and roll of cloth to the upholstery of the salon! We don't subcontract the work to a third-party "partner shipyard" like many other brands. We have built over 400 yachts to date.