The Selene 98 « Fishing » joins the Ocean Explorer family
A sport-fishing yacht must combine rugged, blue water construction with extended range and the comforts of a luxury yacht. Offshore fishing boats are expected to chase the Hemingway-worthy gamefish on all oceans!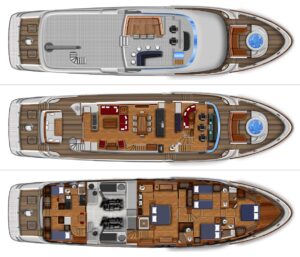 With a lower second cockpit designed to sport a fishing chair with a direct access to the crew quarter and transom compartment, the Selene 98 is designed precisely for that: offshore fishing without compromising any of the classic Selene luxuries and comfort. The 98 has an enormous cockpit ready for a tournament and more than enough room for a battling angler to swivel and maneuver. This extended cockpit is rigged with an offset fighting chair, rod holders, fish tanks, icemaker, all perfect for fishing around the world!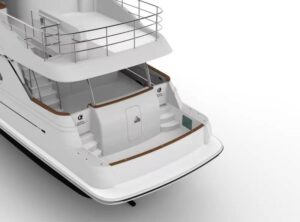 The Horizon is the Limit
Based on our Selene 92 which was listed in 2017 by Southern Boating as one of the «Top Ten Long-Range Cruisers», our new 98 carries more than 6,000 gallons (23,000 liters) of fuel giving enough range to reach the Marquesas from the West Coast of the United States or to reach the Pacific Ocean remote islands! The Selene 98 Ocean Explorer has four staterooms, three guest cabins and a full-beam owner's cabin, a laundry room and a crew's quarters with two cabins and a mess area. The upper bridge equipped with a powerful hydraulic crane is large and safe enough for a fast tender like a Boston Whaler or a Grady White and a RIB!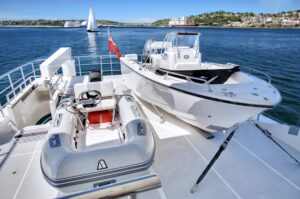 Go fishing…
This new model takes the simple and proven concept of a fuel-efficient and seaworthy long-range yacht to a new level of luxury that is intended to compete directly with the finest European shipyards, but with all of the advantages of FRP requiring less maintenance than steel or aluminum. Equipped with twin 600 HP engines from MTU's 60 series, the Selene 98's only limit is the horizon… If you want to point the bow towards an endless voyage and pursue in style pelagic fishes of the remotest oceans of the world, the Selene 98 is your preferred vessel. Do not hesitate to contact us at [email protected]…