Full steam operations
Those three Selene yachts waiting under their sheds, a 62 Classic Explorer, a Selene 60 and an Artemis 39, are ready for delivery to their owners! The sea trials were successful and our teams are busy with the last-minute touch-up, cleaning and polishing. Despite the initial Covid crisis and the aftermath of the pandemic, our activities have never slowed down! One reason for that: the exceptional reputation and quality of our yachts and also, last but not the least, the fact that we offer customized boats at production-boat price…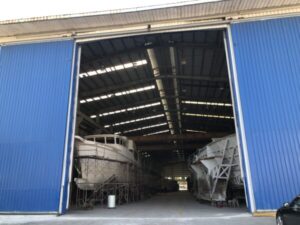 There is a big difference between a recreational "trawler" and a true ocean-going passagemaker like a Selene. The ability to power with confidence across any sea or ocean in safety and comfort is chief among reasons experienced boaters go to Selene, whether their adventures are coastal, global or somewhere in between.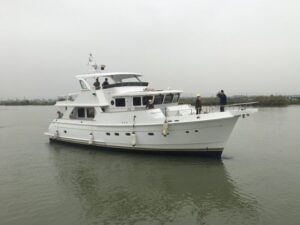 The Selene Advantage
The differences include stronger hulls, watertight bulkheads and doors, full skeg protected propeller and rudder, backup bilge pumps, large scuppers, continuous duty engines, and automatic engine room fire extinguisher systems. We design and build our yachts, in our factory from the first drum of resin and roll of cloth to the upholstery of the salon! We do not subcontract the work to a third-party "partner shipyard" like many other brands. A Selene is built by Selene people only and many of our shipwrights have been with us for twenty years!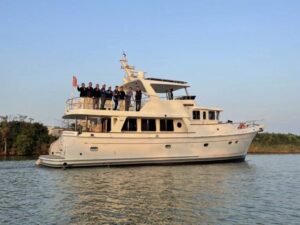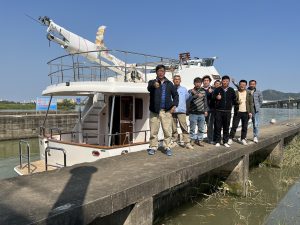 First-class Systems
Also knowing that a Selene Yacht owner often has to be both the captain and engineer of the vessel, we have invested a lot of time in the design of our engine rooms, which are regarded in the industry as best in their class with good access, plenty of room to work around the systems, with ease of maintenance and service in mind. We install only first-class electrical brands for batteries, generators, inverters, chargers, light fixtures, etc. Our engineering team is always ready to assist the owners in the sizing of their yacht's electrical system with the desired level of redundancy depending on how the yacht is going to be used.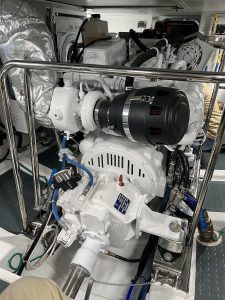 Competitive Prices
Without compromising on quality, we are still able to offer competitive prices compared to equivalent explorer yachts, and to be honest only a few boat builders play in our league… More than 500 initial happy customers over twenty years cannot be wrong, not to mention the proud owners of pre-owned Selene! Do not hesitate to contact our dealers or our in-house ex-factory sales department at [email protected], you will have our full attention…