From hard stand to the water
Our teams have started the sea trial of our new Selene 88 Fishing on the Pearl River. Howard Chen and  Guido de Groot have designed a powerful and elegant dream machine. And our dedicated teams, from the shipwrights, carpenters, engineers, electricians to the project manager have also shown one more time their talent, skills and professionalism… Nothing can replace twenty years of experience!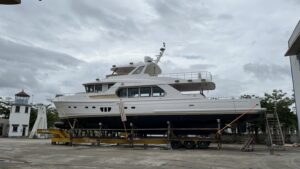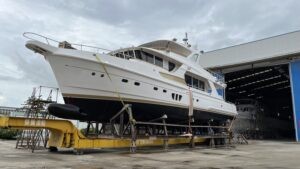 For several days, the engines, the steering system, the autopilots, the navigation instruments, the pumps, the electrical systems and all the gear will be thoroughly checked by our quality control unit. Quality control is the last but not the least step before delivery… When this beautiful vessel left our dock and passed under the Pearl River bridge, she was a head turner!
With two engines and its full-displacement hull, the Selene 88 Ocean Explorer is ready for endless expeditions. The new owner is delighted and enthusiastic! This beautiful and impressive yacht has everything to cruise beyond the horizon: two generators, twin engines, a powerful water maker, state-of-the-art navigation electronics and a Jiwu gyrostabilizer which is better suited to offshore fishing than protruding fins which can get entangled with fishing lines. As usual on all our Selene, we have installed the best gear and components and our engineers and procurement officers are on constant watch for the best technologies. And of course, when we select a product, safety and reliability comes first…
If you too want to live off the grid and explore the remotest oceans of the world, the Selene 88 is your perfect vessel! Do not hesitate to contact us at [email protected]. . .