A Selene 66 in Alaska
Alaska is in the northwest corner of North America, close to the Arctic Ocean, the Pacific Ocean, the Bering Sea and the Bering Strait. Farther than that is the North Pole! And this does not scare our Selene ambassador, Captain Joël Marc and his Selene 66 "Jade."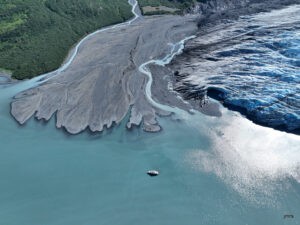 The story of "Jade" must not be missed. It is told extensively in "Neptune", the famous French nautical magazine, an equivalent to the American "PassageMaker" (see the full article in our Press section). Jade is a beautiful Selene 66 Yacht launched in 2005. For several years, her French owner and captain, Joël Marc, has undertaken a long voyage beyond the horizon, from New Caledonia in the Southern Hemisphere to. . . the rest of the world!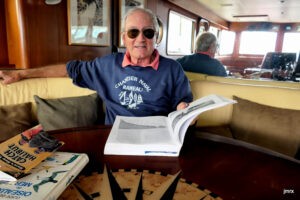 A Selene Ambassador
This amazing French man, Captain Joël Marc, is a modern Phileas Fogg, Jules Vernes' adventurous globetrotter! He is a retired doctor who has criss-crossed the Pacific Ocean, exploring wild islands and remote human settlements. He is our Number 1 blue water traveler and adventurer with his Selene 66 Explorer. For years, he is roaming the seven seas in the wake of famous French mariner Marin Marie, the pioneer of passage making under power on his motor yacht "Arielle" in 1936.
Joël Marc's Selene 66 and its single 610 hp Cummins engine performed flawlessly through the years and "Jade" crossed safely these remote waters familiar to Alaskan crabbing boats. Captain Joël met a few other motor yachts along the way but very few sailboats dare to venture in this area, which is a trawlers' territory.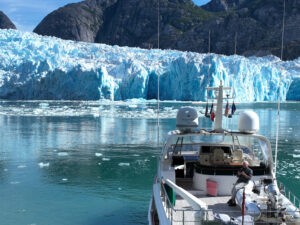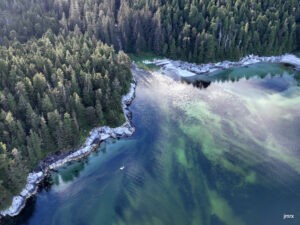 A perfect explorer
The Selene 66 brings together quality, comfort and long-range capability (a twin-engine version is also available). The well-thought layout consists of a three stateroom arrangement with crew quarters aft, all with private heads. The owner enjoys a full-beam master stateroom complete with writing desk, vanity and full-height wardrobes, not to mention a roomy pilot house with a commanding view and a professional engine room.
Joël Marc has added a few things to his Selene 66: a longer anchor chain, a large array of solar panels for recharging the batteries and a water maker which is a critical piece of gear on any long-distance yacht. Captain Joël Marc runs the water maker as soon as they move and even at anchor so the tanks are always full of fresh water. As he writes: "For me, traveling on my motor yacht means absolute freedom. I go where I want, I leave when I want, and I stay as long as I want. . . What other means of transportation but a yacht can provide such happiness and independence? Jade is our home from home, with our books and music library, friends and family. . ."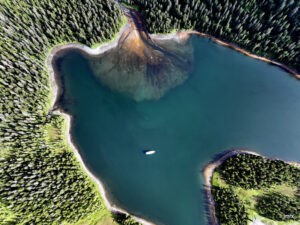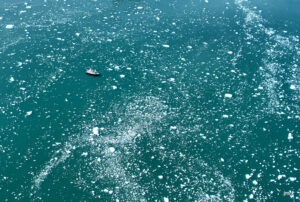 Amazing photos
Selene Yachts have proven since 1989 that they are true exploration vessels built to last and to endure the worst waters and weather. From New Caledonia, in the Pacific Ocean, his hometown, to Japan and Alaska, Captain Joël Marc has never been scared of any ocean passage and weather!
Alaska has many glaciers, some of which can only be seen from a boat. Captain Joël has just shared with us some amazing drone photos of his most recent cruise in this remote part of the world. 
We, Selene people, are proud of Captain Joël Marc. He inspires us. . .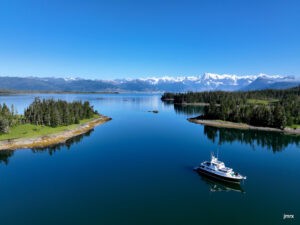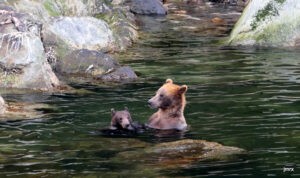 All photos are Joël Marc's property and may not be reproduced without his or Selene Yachts' permission.