A Selene 66 in the Mediterranean Sea
Selene Yachts are everywhere in the world! A few days ago we received amazing photos from our French « Selene ambassador », captain Joël Marc who is cruising in Alaska for three years with his Selene 66 "Jade"; let's meet today a wonderful couple from Australia, Colin and Natalie, who are crisscrossing the Mediterranean Sea. This is only the beginning of their voyage… their Selene 66 "Saved By Grace" is ready for a circumnavigation, just like them! We are delighted and proud to have two new Selene ambassadors in our fleet of 450 Selene yachts all around the world…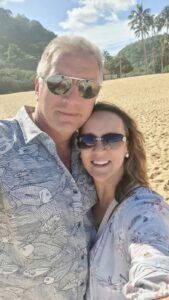 « Our journey begins! I started looking for boats that could take me around the world. »
It seems like an age ago now, when Natalie and I were sitting on the rock wall in Mooloolaba, Australia, looking wistfully out over the Pacific Ocean, wondering when our turn would come. We'd both been through some tough times when we met, both having come to the realisation that life is short, tomorrow is never guaranteed and that we needed to truly embrace the expression: 'carpe diem'. I had felt a call to the ocean as long as I could remember but also to the skies (It turns out that I'm a bit of an adventurer at heart). As a helicopter pilot, one of my favourite jobs was flying marine pilots out to the ships coming and going through the Great Barrier Reef. It was in this role that my yearning for travel and adventure was stoked again, and I started looking for boats that could take me around the world.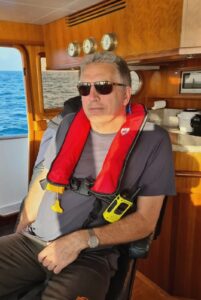 « I needed a boat that was safe, stable, had excellent range and affordable. »
My research started with sail boats, particularly catamarans. They seemed to have good stability, sizeable accommodation, and twin engines. However, it struck me that in the event that I needed to single hand sail it, it could be difficult and a workplace injury had left me feeling that the prudent course to take would be a motor vessel.
I needed a boat that was safe, stable, had excellent range and affordable. I wasn't sure one existed but before too long a couple of brands appeared to tick these boxes and rose to the forefront.
Most people will have heard of Nordhavn when looking for the trawler type boats and this is the brand I was considering when I met Natalie and she was all for it. Finally, after wrapping up things in Australia, fast forward a few months, and our time had come to jet off to the US via Hawaii to look at a few Nordhavn models. We arrived at the head office and made an offer on a 52ft model. As COVID was still playing havoc, stock was low and there wasn't much to look at and prices were high. We then flew to Florida to look at the 55ft model. It was in Florida that our search took an unexpected turn. There we met the guys from Yacht Tech Inc. They sell used Nordhavn's but happened to have a Selene to sell. They pushed us to take a look, but we were rather reticent. Afterall, it's not a Nordhavn… We finally agreed to look, but only after the bribery of a free lunch.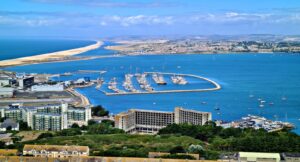 « Selene absolutely wins for the liveaboard in this size range. »
Wow! We weren't expecting this. We were more than pleasantly surprised by the layout, the quality of craftsmanship, the solid feel and the value for money. It was hard to believe. Was it too good to be true?
I'm quite tall (6ft 4) and found the Selene's much more accommodating. There's room to stand up in the showers and still have headroom. Not so with the other boats we'd seen. The layout in the Selene was also much more conducive to onboard living, which we intended to do. We love the open space and fluid design, being able to see a long way forward and into the pilot house from the saloon. Natalie had watched me walk around the Nordhavn's, ducking and weaving and hunching to get through doorways, engine rooms etc. In the Selene I can walk around comfortably with virtually no need to mind my head! This was a no brainer. Selene absolutely wins for the liveaboard in this size range.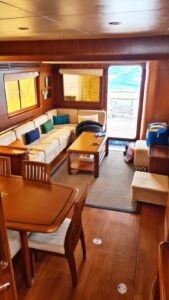 « After looking at a couple of boats, we finally settled on a Selene 66 »
So, was it too good to be true? James, the owner of Yacht Tech Inc knew a couple who had previously owned a Nordhavn but had since bought a Selene. For them it came down to the 'ride'. They said they found the Selene a superior ride and one of them wouldn't go back! High praise indeed. The Selene for sale in Florida didn't quite meet our needs. It didn't have the range as our intention is to cross the Atlantic and the Pacific with fuel to spare. It also needed some work done that would have delayed our plans. However,  with our eyes opened to the quality of the Selene, we cast our net wider to look for the Selene that was right for us. This search led us to the Mediterranean and ultimately, France. During our search, we had also considered buying a brand new Selene. Their build times are very good and we were very tempted! But as we wanted to start our adventures as soon as possible, we decided to go with a readily available option. But we'd love to buy a new model in the future. After looking at a couple of boats, we finally settled on our Selene 66 (22m), on the South Coast of France and bought it in April of  this year. We renamed it "Saved By Grace". It has sleeping for 8, a good size saloon, well equipped galley and lots of outdoor space for cruising and relaxing. We also have a crane for the 6 person tender, which easily fits on the fly deck, with plenty of space for sun lounges. So, we ended up with a much bigger boat and better value for money than expected. We feel very blessed and already have fond memories of enjoying our sundowners in France with friends and family!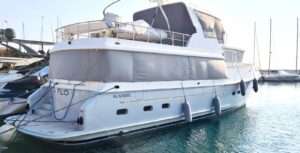 « We completed the theory online in Scotland, and the practical component in England. »
Before we set off on our travels, we decided to have some maintenance work done and to replace some components for our own peace of mind. The surveyor was very helpful and very thorough. We're glad he spoke some English. It was a bit daunting having to arrange services in a non-English speaking country but most things worked out well in the end. There were also some delays with getting the boat 'de-flagged' in France and then registered in the Cayman Islands. So, we decided to make best use of the time and went to the UK to do our Day Skipper Power Boat course. We chose this option as it leads to an ICC (International Certificate for Operators of Pleasure Craft). This is a recognised qualification throughout the Mediterranean and can avoid embarrassing questions in different countries expecting to see certain standards, even though the Cayman Islands doesn't require them, nor does our insurance. As it turns out, Montenegro (our current location) accept the skippers licence from RYA as proof of competency. Anyway, this was time well spent and we're glad we did it. We learnt lots and can highly recommend BH Marine. We completed the theory online over two weeks in Turnberry, Scotland overlooking the Irish Sea, and then undertook the four-day practical component in Portland, England. We are much better equipped than we would have been! The delays turned out to be a godsend.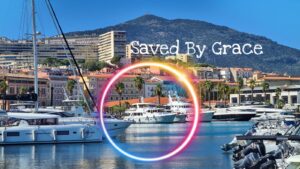 « We look forward to sharing our experiences with you soon. »
When we arrived back on the boat, we discovered that our berth in the marina was leased to someone else and that we couldn't extend it. We literally had just a few days to provision, find another marina and plan our trip on a boat we'd never really used before. The sum of our experience was taking the boat out on its sea trial… gulp! Needless to say, we've had some learning curves since. We look forward to sharing our experiences with you soon. But we'd like to leave you for now with the encouragement to follow your dreams. Hurdles can be overcome and you will learn along the way but every journey begins with the courage to take that first step. Even unexpected ones! If you have any questions, please feel free to reach out or follow us on Facebook "Miles Away Offshore" and on Instagram @milesawayoffshore
Colin & Natalie, October 2022
Don't forget to visit the Selene 66 Classic Explorer page!