Construction of a Selene 54 Classic Explorer
The construction of a Selene 54 Classic Explorer has just started (Hull 54116). This yacht is powerful a combination of live-aboard comfort and excellent long-range cruising in safety for a couple and their guests. Like all Selene Ocean Trawlers, the Selene 54 is a serious long-range cruiser. The hull form of the Selene 54 has a hard chine in the aft sections to reduce the roll, but this merges into the traditional displacement boat's round bilges by the mid sections, giving the Selene 54 its impressive range of more than 2,000 nautical miles. Her shape below the waterline and single engine create a fuel-efficient package and the big slow-turning prop responds instantly to increases in the throttle and increases maneuverability.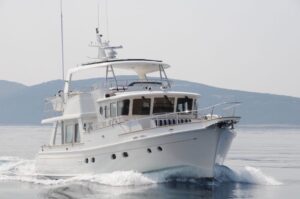 A True Ocean-going Passagemaker
There is a big difference between a recreational "trawler" and a true ocean-going passagemaker like a Selene. The ability to power with confidence across any sea or ocean in safety and comfort is chief among the reasons experienced boaters go to Selene, whether their adventures are coastal, global or somewhere in between. The differences include stronger hulls, watertight bulkheads and doors, full skeg protected propeller and rudder, backup bilge pumps, large scuppers, continuous duty engines, and automatic engine room fire extinguisher systems.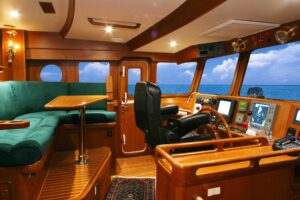 Best Engine Room in Their Class
We design and build our yachts, in our factory from the first drum of resin and roll of cloth to the upholstery of the salon! We do not subcontract the work to a third-party "partner shipyard" like many other brands. We have built over 450 yachts to date. Knowing that a Selene Yacht owner often has to be both the captain and engineer of the vessel, we have invested a lot of time in the design of our engine rooms, which are regarded in the industry as best in their class with good access, plenty of room to work around the systems, with ease of maintenance and service in mind. Our yachts maintain their value because of the quality of construction and materials used. Twenty years after launching, the interior of a Selene Yacht will look as good as new.