A New Selene 60 Ocean Explorer Delivered
A new Selene 60 Ocean Explorer, hull number 46, is being loaded today on a cargo ship in Yantian Port, Shenzen. The yacht is on its way to the final destination.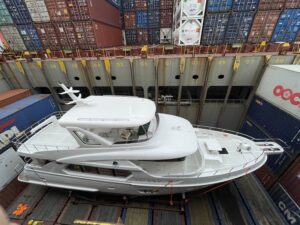 Full Wide Body Layout
This Selene yacht has a brand new styling profile and a layout with three luxury staterooms and en-suite bathrooms. Although the yacht can easily be operated by the owner, it has a comfortable crew quarter aft with a full head for a captain or steward, which can also double as a fourth cabin. Twin or single Cummins or John Deere engines are available for the propulsion system. The interior design is contemporary, similar to the Selene 92 and 72. There are three versions to choose from, "Full Wide Body", "Port Side Wide Body" and "Standard Two Side Decks."  The yacht being delivered today is a beautiful full-wide body design with a spacious saloon. 
While we have just started laminating a new Selene 54 Classic Explorer and are busy building 8 more boats: a Selene 49 Classic Explorer, a Selene 72 Ocean Explorer, two Selene 62 Classic, a Selene 66 Classic, a Selene 45 Classic, a Selene Ocean Explorer 60 and one Artemis 48, we still have space for new orders!