Selene Stock yachts are usually delivered quicker than a custom yacht. Depending on the advancement of construction, personalization of several items may be possible.
To some extent the world economy is still suffering of the Covid pandemic; rise of transportation costs, shortage of raw material and spare parts, lack of manpower experienced by several suppliers in the US or Europe, etc. have caused a major backlog in the yacht production, not only for us at Selene but for all builders. 
At Selene, our main issue is not at the shipyard where we have no manpower issue, the main problem is the lead time for the delivery of several strategic components like the Diesel engines and the generators that we order from reputable American suppliers like John Deere, Onan or Northern Lights to mention a few only… It may take up to 15 months in certain cases, and very seldom less than 9 months, which has consequences on the delivery date of the final yacht…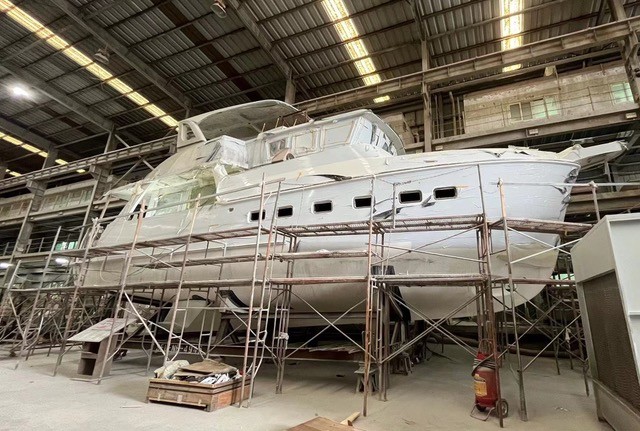 New Selene yachts for sale, new building units
Because of this situation, we have decided to start building "Selene Stock Yachts". At the same time, we are upgrading our shipyard building halls with a state-of-the-art assembly line and a private dock on the Pearl River with a Travelift and a small marina for our customers.
The Selene stock boats will be permanently documented on this page, showing the general arrangement, the specifications, the building progress, installed equipment, photos and possible options during the construction. Depending on the status of each boat under construction, potential customers will be able to place their order with a deposit to secure their rights on the yacht under construction. The amount of the deposit (between 10 and 50%) will take into account the advancement of the boat. The final payments will be when the boat is launched for the sea trials and just before delivery.
This modus operandi will shorten the construction period and will help us to anticipate delivery delays and keep more control on the chain of supplies.
Keep an eye on this page, the new boats will be announced on the homepage of our official website and on social medias!