Selene 80 Fishing Explorer delivered!
Last night our latest Selene 80 Fishing Explorer left the shipyard for her final destination in Asia. She will travel as far as the Maldives, Indonesia and the Philippines! Under heavy rain, a team of twenty-five proud Selene workers and the owner attended to the operations at our dock on the Pearl River. We all caught our breath when around midnight the 500-ton crane started to lift the 80-ton yacht and her steel cradle from the flatbed truck… At high tide a barge took the yacht to Hong Kong where she will be loaded on a cargo ship. All's well that ends well!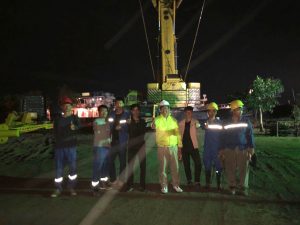 The Selene 80 Fishing Explorer sleeps 12!
This Selene 80 is designed for offshore fishing with a larger and longer deck aft, two steps lower than the cockpit level. A shorter Selene 72' version is also available with an optional enclosed flybridge. The Selene 80 offers four staterooms with ensuite heads, and a crew quarter with four bunks and head located between the master stateroom and the engine room. With berths for 12, the Selene 80 Explorer may be used as a private yacht or as chartered vessel for fishing enthusiasts.
The flybridge accommodates a 4.2m tender with a 40hp outboard engine, has enough space for a small sailboat and sports seating for eight under the hardtop. Like her smaller sister the Selene 66 Classic Explorer, the Selene 80 Fishing Explorer is a « bastion of luxury » doubling as a no-nonsense efficient and safe passage maker. The owner may select a strictly classic or more contemporary interior decoration, the model we launched last night happily blends both styles…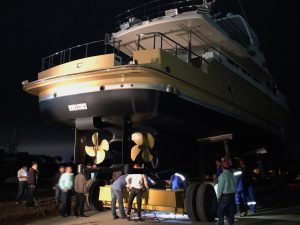 Full redundancy
All systems are redundant with twin-engine configuration, two generators, a large array of solar panels and hydraulic stabilizers, windlass and thrusters. With a speed of 12 knots, this exploration vessel can get faster on the fishing grounds with twelve guests and crew ! Machinery space was not neglected and systems are easily accessed through a transom door or the interior stairway connecting to the crew quarters. All major components are within reach for ease of maintenance. In addition a massive lazarette has room for a workbench, a dive compressor, water-makers, a large freezer and storage.
We wish the happy owner and his family fair winds and following seas at the helm of his beautiful yacht…