On the Drawing Board
From the drawing board to tank test, a new Selene yacht is taking shape! The new Selene 62 Clipper was successfully tank tested last week in the pool of the South China University of Technology. This new model inspired by Howard Chen and his design and technical teams is a semi-displacement vessel which will take the Selene lifestyle to the fast lane! The interior will feature the same level of luxury found on all Selene yachts with a beautifully laid engine room designed for ease of maintenance and service. The twin 715 to 1,000 hp Cummins, CAT or MAN engines will allow for a 22 to 27 knots speed as well as for a fuel-saving classic displacement speed of 10 knots required for long-distance travels.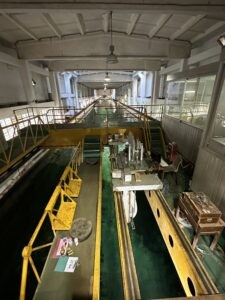 Dual speed hull design
"Dual Speed Hull design" is a unique hull design that combines several innovations in the hull shape and stream line. This hull offers the best of two worlds; it shows stability at low speed and less resistance at high speed, inducing a higher planing speed with less power. This is the result of two years of research by Howard Chen and his Taiwanese naval architectural team with the knowledge of Dr. Wang of South China University of Technology.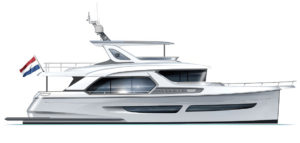 The 1/10 scale hull models (one with classic bow and the other with vertical bow) were successfully tested in the towing tank at different speeds up to 28 knots. As Howard Chen said, this Dual Speed Hull Shape design is inspired by an old Chinese saying "静如处子 动如脱兔," Calm like a virgin, move like a rabbit... This innovative design will be used for several different Selene semi-displacement yachts. 
Stay tuned for more news…