Full steam ahead!
Three new Selene hulls are under construction at our shipyard for their happy owners, a 42 Voyager Sedan, a 60 Ocean Explorer and a new model, the 88 Ocean Explorer, a wider and longer version of our popular 72 Ocean Explorer with an extended fishing cockpit.
The 42 Voyager's hull has just left the lamination hall and was moved yesterday to Hall A where the three hulls will start receiving kilometers of cables, pipes, tanks and interior bulkheads. And a new 62 Classic Explorer just released from her hull and deck moulds last month is ready for sale…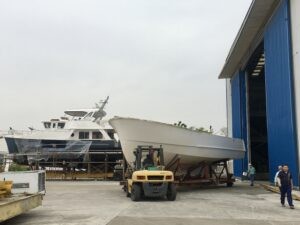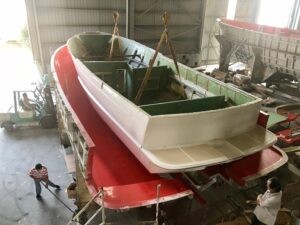 Traffic jam in front of the building halls!
Meanwhile, the lamination teams will start to build the decks and superstructures. In the workshop next door, another team will fabricate all the stainless steel components, railing, windows, Samson posts, etc.
Selene Yachts are not production boats, they are built by hand by qualified workers and engineers who started to work with Selene twenty years ago… This is why ten or fifteen years later, a Selene still looks the same and keeps its value on the pre-owned yacht market.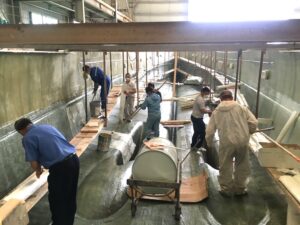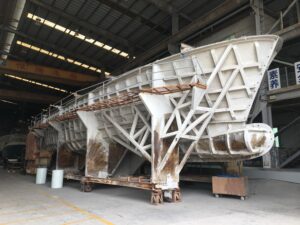 Long range passagemakers
And of course all our long range yachts are equipped with the proven Selene clean fuel system in our best-in-class engine rooms! This is why all Selene are real passagemakers and can be seen all over the world… See our animated map! All these vessels designed by Howard Chen are ready for circumnavigations and world voyages…
Do not hesitate to call our Selene official dealers in Europe, New Zealand or the US West Coast. They will help you to customize your yacht! If there is no dealer in your area, contact us at the International Sales Unit [email protected], we will allocate you a project manager in English, French or Chinese…
From 38′ to 128′, for coastal cruising or off-shore and ocean passages, there is a Selene yacht for every sailing plan…